The Pakistan air force (PAF) has inducted the Chengdu J-10C fighter, becoming the second air force globally to operate the single-engined type.
The fighter will serve with the air force's No. 15 Sqn, according to a video posted on the PAF's Facebook page.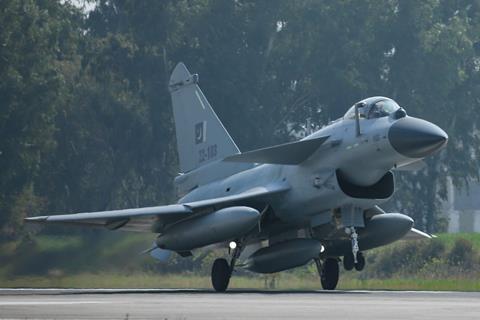 An officer in the video notes that No. 15 Sqn scored the first kill in the history of the PAF, and that "when the time comes, being equipped with this aircraft, we'll be at the forefront in defence of the motherland".
He adds that as a "4.5-generation" fighter, the type is "unparalleled in the region", and is equipped with an advanced electronic warfare suite as well as an active electronically scanned array radar.
It is not clear how many J-10Cs Pakistan will obtain, but one squadron contains about 20 fighters. Media reports suggest that about 25 fighters will be acquired. The only other operators of the J-10 are China's People's Liberation Army Air Force, and its naval air force.
In late January and February, images started emerging on Chinese social medias of J-10Cs bearing PAF markings in the skies over Chengdu, where the jet is produced.
In addition to the Pakistan buy being the first export win for the type, it also marks the first time China has sold an advanced fighter engine overseas. Pakistan's J-10Cs are powered by the Shenyang WS-10B. Previous versions of the combat aircraft – the J-10A and J-10B – used Russia's Saturn AL-31F.
No. 15 Sqn, nicknamed the "Cobras" is based at PAF Base Minhas in Northern Pakistan.