Poland has offered its entire RAC MiG-29 fleet to the USA – to pass on to Ukraine to aid in its defence against Russia's invasion – in exchange for used fighter jets.
The NATO member is also encouraging other NATO allies to do the same.
Poland's ministry of foreign affairs said on 8 March that it is prepared to "immediately" send the jets to Ramstein air base in Germany, the largest US military facility in Europe.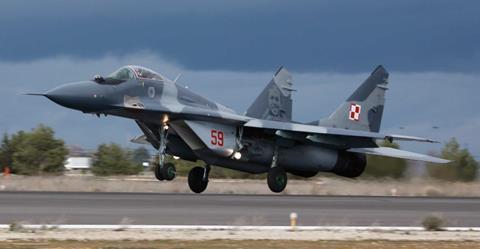 "The authorities of the republic of Poland, after consultations between the president and the government, are ready to deploy – immediately and free of charge – all their MiG-29 jets to the Ramstein air base and place them at the disposal of the government of the United States of America," the ministry of foreign affiars writes in a note on its website.
"At the same time, Poland requests the United States to provide us with used aircraft with corresponding operational capabilities. Poland is ready to immediately establish the conditions of purchase of the planes.
"The Polish government also requests other NATO allies – owners of MiG-29 jets – to act in the same vein," it adds.
The Pentagon tells FlightGlobal it is "aware of the report" from Poland, but declines further comment.
Poland's air force has 23 MiG-29s, more of the type than any other member country of NATO, according to Cirium fleets data.
Including Poland, four NATO members have a combined 56 of the twin-engined fighters. Other operators include Bulgaria, with 11, Croatia with 12 and Slovakia with 10.
Poland would officially transfer the jets to the USA, which would presumably in turn provide them to the Ukrainian military, now in its 14th day of defending against Russia's invasion.
Prior to the conflict, Ukraine had 43 of the type. It is unknown how many, if any, remain airworthy.
On 6 March, US Secretary of State Anthony Blinken said the USA was in active discussions with Poland related to the transfer of combat aircraft to Ukraine's beleaguered air force. At that time, reports suggested Poland would receive Lockheed Martin F-16s from the US Air Force inventory to replace aircraft transferred to Kyiv.
"Giving MiG-29s to Ukraine will make a difference," says aerospace analyst Richard Aboulafia with AeroDynamic Advisory. He cites the "bizarrely incompetent performance" of Russia's air force during the first weeks of the conflict.
However, Aboulafia notes MiG-29s are 30-year-old jets that surely need maintenance. As such, "It isn't clear how quickly they will be able to join the fight", he adds.
He does not view the move, should it occur, as likely to significantly alter the state of Western-Russian relations.
"This transfer is not really meaningful in terms of how Russia sees the West," Aboulafia says. "The US and NATO countries are already shipping missiles directly to Ukraine, so this isn't a big change geopolitically."