Airbus Defence & Space has received a contract to build a Tranche 4 batch of 38 Eurofighters for the German air force, following recent parliamentary approval for the Project Quadriga acquisition. The deal was formalised on 11 November, during a signing event involving officials from the Eurofighter consortium and NATO Eurofighter and Tornado Management Agency.
Berlin's new assets will be a mix of 30 single-seat and eight twin-seat fighters, Airbus confirms. This will include a trio of instrumented test aircraft, to be used in support of further enhancements to the type.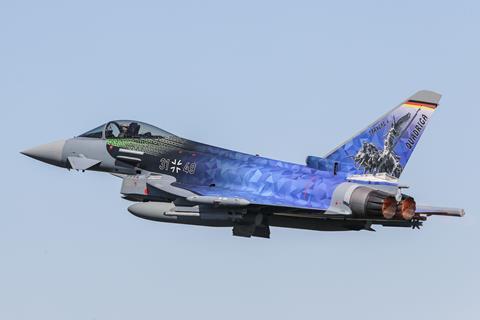 New equipment to be integrated with the Quadriga jets will include an active electronically scanned array (AESA) radar, currently being developed by Hensoldt, plus what Airbus refers to as "future-proof hardware and software". This sensor suite will provide "unlimited multi-role capability for engaging air and ground targets", it claims.
Germany had separately signed a contract in June to acquire 110 Captor-E Mk1 AESA radars for use with its existing Tranche 2- and 3-standard combat aircraft.
"This makes Germany the largest ordering nation in Europe's biggest defence programme," Airbus notes of the new deal. The three other Eurofighter industrial partner nations are Italy, Spain and the UK.
Cirium fleets data records the German air force as having 137 Eurofighters in active use, aged between one and 17 years. This total includes 31 Tranche 1 production examples, it shows. The service is already the largest operator of the multi-role type, with its fleet accounting for 27% of the 514 in-service examples.
Airbus Defence & Space chief executive Dirk Hoke describes the new Tranche 4 standard as "the most modern European-built combat aircraft, with a service life well beyond 2060".
"Its technical capabilities will allow full integration into the European Future Combat Air System," Hoke adds. The Eurofighter programme's industrial partners have pledged to field technologies on the current type which could also be integrated with their planned New Generation Fighter and Tempest systems.
Confirmation of the follow-on order from Germany – which will use the new aircraft to replace its Tranche 1-standard Eurofighters – "secures production until 2030 and comes at a strategically important time for the programme", says Airbus.
With the Typhoon currently in production for export customers Kuwait and Qatar, the Eurofighter consortium is also anticipating a potential repeat purchase from Spain, which is seeking replacements for its Boeing F-18s.
Airbus notes that both Finland and Switzerland are due to make decisions about their future fighter acquisitions during 2021, with the Typhoon in contention in both competitions.
"With E-scan [radar] and Quadriga contracts secured, we are significantly enhancing the operational capabilities of Typhoon for decades to come," notes Eurofighter consortium chief executive Herman Claesen.