The Royal Australian Air Force (RAAF) has taken delivery of a single Boeing EA-18G Growler to replace an aircraft lost in a 2018 accident.
"Defence formally accepted the replacement EA-18G Growler in February 2023," says Australia's Department of Defence (DoD). "Acceptance of this aircraft restores Australia's Growler fleet to 12 aircraft."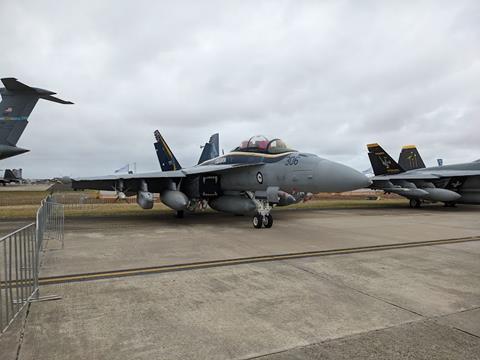 The DoD made the statement in response to query from FlightGlobal. In 2021, the US government cleared the sale of a single EA-18G in a transaction estimated at $125 million.
In early 2018 the RAAF lost a Growler owing to the catastrophic failure of a fan disk in its left side GE Aerospace F414 engine. The aircraft was attempting to take off from Nellis AFB near Las Vegas, Nevada, during a Red Flag-series exercise. No personnel were injured, but the aircraft was a write-off.
The RAAF is the only operator of the EA-18G apart from the US Navy. The type, a variant of the F/A-18F Super Hornet, specialises in the electronic warfare mission.
In early February, Canberra award its first contract to upgrade its EA-18Gs under its 'AIR 5349 Phase 6 – Advanced Growler' requirement.
The upgrades will include continued cooperation on the US government's Next-Generation Jammer programme, in which Australia is a partner, aircraft upgrades, and facility upgrades.
The initial contract was valued at A$277 million ($254 million) and earmarked for local firm CEA Technologies, which will "provide advanced capabilities for Australia's electronic warfare ranges".
At the recent Avalon Airshow, Boeing confirmed that it is in discussions with Canberra about upgrading the RAAF's fleet of 24 F/A-18Fs to the new Block III configuration.
"That's still in discussion with [the] RAAF about how we continue to support Super Hornet and at what point we incorporate Block III upgrades for Super Hornet, and Block II upgrades for the Growler," said Dale McDowall, Boeing's director of business development for Australia and New Zealand.
Block III upgrades, which are being applied to the US Navy's Super Hornet fleet, significantly enhance the aircraft, particularly its ability to handle large amounts of data as part of a larger "kill web" that includes multiple other assets.