The UK's third and currently final Boeing 737NG acquired for conversion into the E-7A Wedgetail airborne early warning (AEW) configuration for the Royal Air Force (RAF) has arrived in the country.
Speaking at the Royal International Air Tattoo (RIAT) on 15 July, Boeing Defence UK managing director Anna Keeling announced that the new-build narrowbody had arrived at the Birmingham airport facility of conversion partner STS Aviation the previous evening.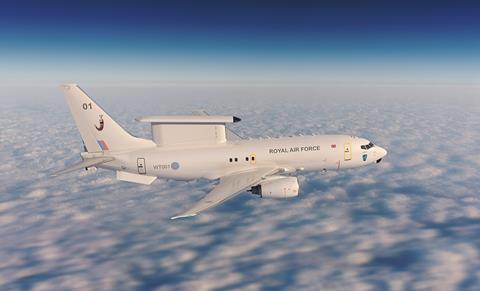 It joins two secondhand airframes which are already at the site undergoing what Keeling describes as "complex, heavy modification work". She notes that the lead airframe has received 100,000 labour touch hours since last September, including removing and strengthening the fuselage's Section 46 to bear the weight of the Wedgetail's signature Northrop Grumman MESA multi-role electronically scanned array radar.
The process also has included drilling more than 30,000 holes, modifying 150-plus wiring harnesses and installing 1,000 new ones, Keeling says.
The RAF, meanwhile, used RIAT's opening day to reveal its updated livery for the Wedgetail AEW1, depicting an aircraft with the registration WT001. Its tail will feature the Jambiya dagger insignia of the service's 8 Sqn – which until last year operated the Boeing E-3D Sentry – and the NATO AEW Force shield is adorned near its nose.
Air Commodore Alex Hicks, senior responsible owner for the RAF's Wedgetail and 737-based P-8A Poseidon MRA1 maritime patrol aircraft programmes, says the new AEW capability should achieve initial operational capability (IOC) status in 2024.
Hicks notes the challenges which have been faced during the acquisition process: the initially planned five-strong fleet was trimmed to just three airframes, and the type's future home was changed post-contract award from RAF Waddington in Lincolnshire to Lossiemouth in Scotland.
"For a period of 18 months that distracted everybody," he says. A schedule risk assessment activity will be conducted with Boeing over the next couple of months, with this to define a firm delivery schedule, IOC and full operational capability dates for the new system.
Northrop is currently conducting ground-based testing of the first UK MESA sensor in Baltimore, Maryland. "The tests are going well," Hicks says. "The capability that [sensor] offers us in the air C2 [command and control] domain is really unprecedented." It will soon be shipped to the UK for integration with the lead airframe in Birmingham.
Noting that the company had not built a MESA radar for 10 years prior to receiving the contract for the UK, he says: "There were significant obsolescence issues that Northrop Grumman had to overcome." This included the need to replace older technology previously produced as line replaceable units with single electronic cards. "It has been modernised in multiple places," he says.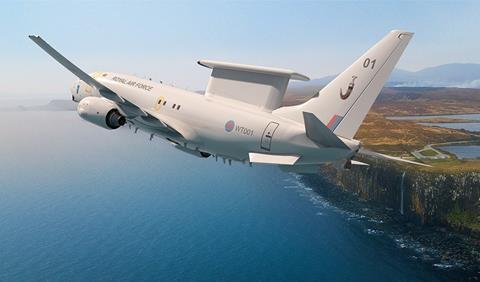 Mirroring its previous effort to retain vital skills in the maritime patrol realm before the P-8A's introduction, the RAF is running a so-called 'Seedcorn' AEW activity. This has seen 21 of its personnel embedded with the Royal Australian Air Force, where they are gaining experience on operating and maintaining the Wedgetail.
"We have got the first of those [personnel] back in-country now, and they are helping us start to think about how we are going to do the design, test and evaluation of the platform, and operational test and evaluation," Hicks says.
Noting that the decision to reduce the E-7 fleet to just three aircraft – made as part of a defence review last year – was wholly "a ministerial decision" made prior to the current crisis in Ukraine, Hicks says: "I absolutely will be putting a bid in to buy additional assets.
"I'd like five – I'd like six, actually," he adds, while describing the UK reinstating its lapsed AEW capability as being "important to national security".
Operations with the RAF's future Wedgetail fleet are currently planned to run until at least 2042, but Hicks sees strong potential for further sales and development of the platform, which also today is flown by the air forces of South Korea and Turkey. With the US Air Force (USAF) having earlier this year selected the type to replace its aged E-3s, he thinks NATO could follow suit when acquiring a "bridging" replacement for its 14-strong Airborne Warning and Control System fleet.
With an eye to future cooperation, Hicks says USAF personnel "will be on board" when the RAF conducts design, test and evaluation-phase assessments of its new surveillance type.

Craig Hoyle joined Flight International in 2003, and has edited the now monthly title since 2015. He has reported on the UK, European and international military aviation sector for more than 25 years, and produces our annual World Air Forces directory.
View full Profile