The UK Royal Air Force (RAF) has received the last of its nine Boeing P-8A Poseidon MRA1 maritime patrol aircraft, with the twinjet having landed at its Lossiemouth base in Scotland on 11 January.
Flight tracking services indicate that the aircraft (ZP809) completed a nonstop, 8h 46min flight from Seattle, Washington; a distance of 3,820nm (7,060km).
"The ninth aircraft joins the Royal Air Force fleet already conducting maritime patrols, including anti-submarine warfare, to secure the seas around the UK and abroad," says Boeing Defence UK.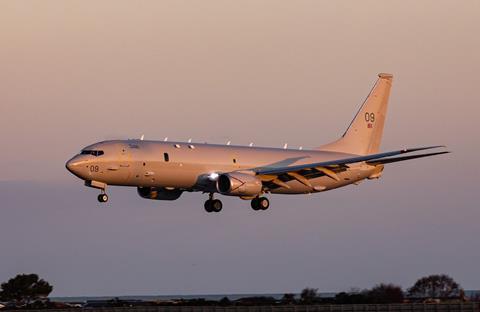 Boeing delivered the RAF's first P-8A to its Kinloss base in February 2020, with the service declaring initial operational capability with the type just two months later. Poseidons were temporarily operated from the site while infrastructure work was being completed at nearby RAF Lossiemouth.
Flown by the RAF's 120 and 201 squadrons, the 737NG-based type represents a successor capability for the retired British Aerospace Nimrod MR2 maritime patrol aircraft fleet, which left use in 2010.
Facilities at RAF Lossiemouth now include a £100 million ($135 million) Atlantic Building hangar, capable of accommodating three P-8As simultaneously, squadron operations, and also with mission support and training facilities including simulators.
Boeing Defence UK is under contract to support RAF operations with the Poseidon, with around 200 of its employees to deliver maintenance, training and support.
The Lossiemouth base also will in the future be home to the RAF's fleet of three 737NG-based E-7A Wedgetail airborne early warning and control system aircraft. "The first two [are] currently undergoing modification in Birmingham", Boeing says, with this work being performed by STS Aviation Services.