Saab is close to performing the debut flight of its fifth and final GlobalEye surveillance aircraft for the United Arab Emirates, while it scans for additional sales.
The UAE is launch operator for the Bombardier Global 6000-based system, having signed for an initial three in 2015. Uniquely, the platform can monitor airborne, maritime and land-based targets simultaneously.
"The UAE programme is on status and on track: it's basically full speed ahead," says Tomas Lundin, Saab's head of marketing and sales for airborne early warning and control (AEW&C). "We did the first flight for the fourth Global aircraft in April this year and it's now in the final test phase, and for the fifth aircraft we're going to do the first flight rather soon."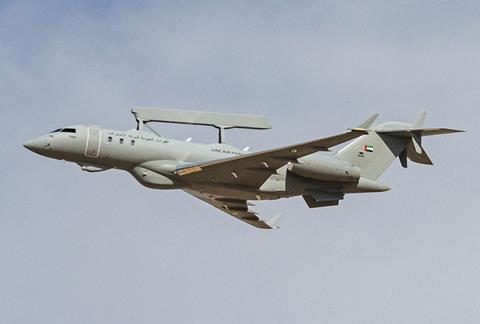 Both assets will be delivered from Saab's Linkoping site in Sweden during 2024.
At the Dubai air show, the manufacturer is exhibiting a virtual reality tool, which shows off the aircraft and its interior – by invitation only. "We also have a mission operator room where we can sit down with selected guests and look at some demonstrations and different concepts of operation," Lundin says.
The company also is under contract to produce two GlobalEyes for the Swedish air force, with options on a further pair. Deliveries will occur in 2027, to replace two Saab 340-based AEW&C platforms.
On the show's opening day, Bombardier announced that it had transferred the second Swedish aircraft to Saab in Canada, ahead of their transfer to its Linkoping modification facility.
"There are lots of ongoing activities in relation to the mission system," Lundin tells FlightGlobal, adding: "we will soon start to receive the 'green' aircraft."
South Korea is another current focus of attention for Saab, with a request for proposals linked to its four-aircraft AEW&C 2 requirement expected soon.
"We are offering a 360° primary radar coverage solution," Lundin says. "We do an adaptation to have a front- and aft-looking radar, as part of the configuration," he adds: these are in addition to its roof-mounted Saab Erieye ER sensor. "We have a fully compliant solution that we are prepared to offer, together with a strong industrial package."
Competition will come from the Boeing 737NG-based E-7 – a type already operated by the Republic of Korea Air Force.
A 360°-capable version is also being offered to NATO, which is seeking a successor for its aged Boeing E-3 airborne warning and control system (AWACS) fleet.
"We are looking forward to the next step, and we are prepared," Lundin says.
The company also has already conducted demonstration flights for E-3F operator the French air force.
While the UAE and Sweden will field adapted Global 6000s, new customers are to receive modified 6500s.
"The main difference is there's a new engine, it's slightly more fuel efficient, which creates even more endurance of the aircraft, which is obviously good for us, and there are some changes in the avionics system," Lundin explains. "For [GlobalEye] certification activities, there's actually not a lot that needs to be done by us."
Meanwhile, Warsaw recently received its first of two Saab 340 AEW&C aircraft via a rapid acquisition. "We are really excited to deliver those assets, but Poland is very interested in GlobalEye as well," Lundin says.
"We have a lot of ongoing activities," he adds. "We facilitate discussions with for example Denmark and Finland, to look at an opportunity to bring on board more countries in the Nordic region. That stretches out to the Baltic Sea and to the Baltic countries."
Back in the Middle East, with Saudi Arabia currently operating the E-3 AWACS, and Qatar having previously expressed interest in acquiring an AEW&C capability; could either be potential candidates for a future GlobalEye sale?
Lundin declines to comment, but notes: "We are always looking at new business opportunities – absolutely also in this region.
"We pride ourselves in having something here and now – something that is in production, in operation and under contract. I think that resonates well with the market."