The UK Ministry of Defence has advanced plans to prepare a dedicated flight test aircraft (FTA) to support the sixth-generation Global Combat Air Programme (GCAP) from 2026.
Leonardo UK on 14 July announced its receipt of a £115 million ($150 million) contract for the modification and use of a Boeing 757 testbed, with the platform to be prepared by 2Excel Aviation.
The new funding commitment represents the second phase of the FTA effort, which intends to deliver a "flying laboratory for combat air technology", Leonardo UK says.
"The new contract will cover the physical modification of the 757, as well as flight tests, certification and the work required to secure approval from the UK Civil Aviation Authority [CAA]," Leonardo says.
During an already completed phase one engineering study, 2Excel dismantled one ex-airline 757-200 "piece-by-piece", in order to "understand its construction in-depth".
"This was required so that the UK team would be able to provide the appropriate regulatory evidence and design information to the CAA and enable a second, modified aircraft to be certified for flight."
2Excel already has the ex-Titan Airways 757 at its Lasham airfield site in Hampshire, awaiting modification, with the testbed having the registration G-FTAI.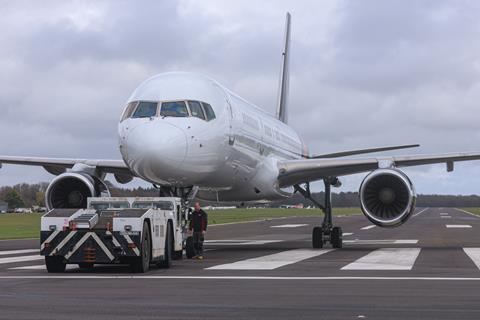 Key installations will include Leonardo UK's integrated sensors, non-kinetic effects and integrated communications systems technology, plus a prototype multi-function RF system active electronically scanned array radar.
G-FTAI will fly for the first time in modified form during 2026, Andrew Howard, Leonardo's director future combat air/GCAP UK, said at the Royal International Air Tattoo at RAF Fairford in Gloucestershire on 14 July.
Plans for the Excalibur aircraft were announced in September 2021. "What we have been doing over the last 18 months is refining and maturing to design the 757 conversion, and working out which of our technology demonstrations will feature in the flight-test programme," Howard says. "We anticipate an initial period of flight-test of around two years," he adds, with equipment to be added incrementally as testing advances.
An initiative involving the UK and joint partners Italy and Japan, GCAP aims to deliver a next-generation combat air capability for operational use from 2035.
The Excalibur FTA is currently a UK-only activity, but Air Commodore Martin Lowe, FCAS programme director for the UK Ministry of Defence, notes: "We are in the middle of a lot of discussions with our Italian and Japanese partners about whether over time this becomes an international venture."

Craig Hoyle joined Flight International in 2003, and has edited the now monthly title since 2015. He has reported on the UK, European and international military aviation sector for more than 25 years, and produces our annual World Air Forces directory.
View full Profile