The UK has requested a possible acquisition of Advanced Precision Kill Weapon System-II (APKWS-II) laser-guided rockets from US-based BAE Systems Inc.
Outlining the proposed sale of 768 all-up rounds in a 28 April notification, the US Defense Security Cooperation Agency (DSCA) values the deal at approximately $31.2 million. The US Department of State has given its approval to the transfer, which still requires sign-off by Congress.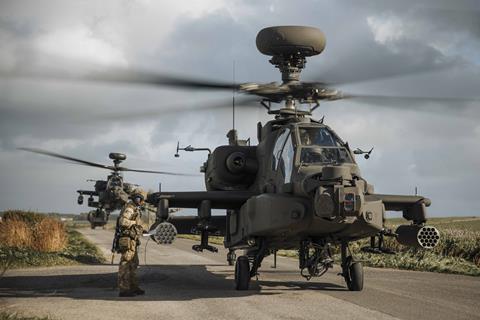 Conducted via the US government's Foreign Military Sales mechanism, an APKWS-II deal with the UK also would include support equipment, spare and repair parts, and programme support, the DSCA says.
"The proposed sale will improve the United Kingdom's capability to meet current and future threats by ensuring its aviation forces' interoperability with United States and other allied forces as well as its ability to contribute to missions of mutual interest," the agency says.
While the pre-contract notification does not identify the likely host platform for the tube-launched, precision-guided rockets, the capability would be well suited for use by the British Army's Boeing AH-64E attack helicopters. Prior to their modernisation to the latest Apache standard, the UK's examples deployed a suite of weapons including unguided 70mm (2.75in) rockets.
"APKWS guidance kits transform unguided [Hydra 70mm] rockets into smart munitions for precision strikes on soft targets, equipment, and armoured targets," the Nashua, New Hampshire-based manufacturer says. Launched from a helicopter, the weapon has an effective range of up to 2.7nm (5km).

Craig Hoyle joined Flight International in 2003, and has edited the now monthly title since 2015. He has reported on the UK, European and international military aviation sector for more than 25 years, and produces our annual World Air Forces directory.
View full Profile