Air Baltic is expecting to end 2022 with 40 Airbus A220-300s in its fleet as it emerges from the Covid-19 crisis firmly committed to life as a single-type operator.
Speaking to FlightGlobal on the static display at Dubai air show – where Air Baltic's 32nd and newest Airbus A220-300 is parked – the carrier's chief executive Martin Gauss says the aircraft is "unmatched" in its performance and will "definitely take us out of this crisis".
His enthusiasm for the narrowbody is one of the reasons Air Baltic is in Dubai, helping Airbus to show potential A220 customers around the jet.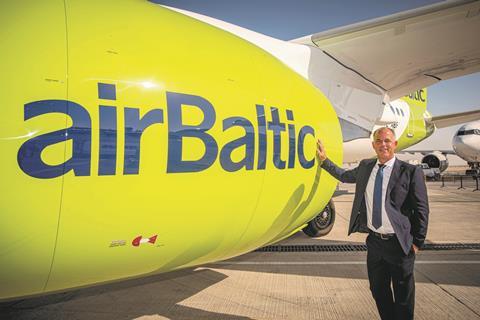 Indeed, outlining the benefits of the A220 to potential customers at the show has helped to remind Gauss "what power [it] can have for us when we can fill it again, because of the costs which have come down so significantly by focusing on this aircraft".
Gauss has also been able to impart plenty of "expertise" on the type, which entered service with Air Baltic as the Bombardier CS300 in December 2016.
"We have now more than 70,000 flights on the aircraft," he states. "We are probably the most experienced airline in the world on the A220 because we do our own heavy maintenance and we have taken a couple of aircraft through their first C-checks."
Furthermore, Air Baltic operates its fleet in a diverse set of environments.
"We fly it daily out of the desert back into Europe," Gauss says. "We have flown the aircraft through five winters, we fly it in the sand, so we have all that experience."
At its Riga airport home, Air Baltic also has its own simulator and training centre.
The carrier was also one of the operators affected by rotor separation in the Pratt & Whitney PW1500G engines that power its fleet.
The carrier has even trained technical personnel for Air France, which recently brought its first A220-300 into service.
"If you talk to Airbus, they will say 'Air Baltic knows about A220s'," Gauss states.
And his experience with the A220-300 extends beyond what might be expected of an airline chief.
Aside from leading the largest operator of the -300 variant – Delta Air Lines has more A220s, but its fleet is dominated by the -100 – Gauss is also type-rated to fly the narrowbody.
He describes the pilot experience as "like driving a Bentley or a Maybach for how smooth it handles", with the aircraft giving the pilot "a perfect overview" of tasks and a "lot of technology to take your decisions".
"It is a very, very nice aircraft to fly," he adds.
Air Baltic took seven A220-300s in 2021, bringing its fleet to 32 examples, and plans to take eight more next year, Gauss says. The carrier advanced its plans to become a single-type operator amid the devastating impact of the pandemic on the air transport industry.
Today, the airline has outstanding firm orders for 18 A220-300s.