Latvia-based Air Baltic made it through its home country's recent four-week lockdown without adjusting its capacity – or its plans for an IPO in the coming years.
Speaking to FlightGlobal at the Dubai air show on 15 November – the day Latvia's lockdown ended – the carrier's chief executive Martin Gauss said load factors fell by around 10 percentage points to 50% during the period, but that the business benefited from having positioned itself to deal with the ups and downs of Covid-19.
Therefore, instead of reacting with shock to the challenges created by the lockdown announcement in October, Air Baltic was instead ready to calmly ask itself "what do we do?" to make it through the four weeks, according to Gauss. Helpfully, the lockdown did not come with a ban on outbound travel.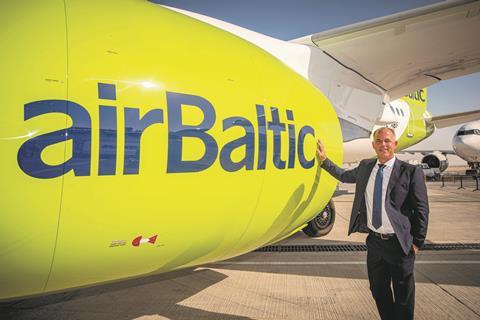 "We did an advertising campaign to take people and fly them away from that local pandemic, and it worked very well," Gauss states. "We were surprised how well we were able to stimulate outbound traffic when of course the inbound traffic was heavily reducing."
Warm destinations – including Air Baltic's recently launched Dubai route and services to Malaga and Tenerife – have been seeing load factors of more than 90%, with the overall figure dragged down by low loads on "a lot of the city connections which we have to serve because we are a connectivity provider".
In the end, "we didn't take out any capacity because of the lockdown", Gauss says, with the situation helped by the natural flying reduction that came with the transition to the winter schedule.
And despite the fall in load factor from around 60% before the lockdown to 50% in early November, Air Baltic is currently "not making a net profit, but at an EBITDA level or EBIT level we can produce a good result", Gauss states.
Its December capacity projection is also in line with the one it formulated before the lockdown was announced, he adds.
Air Baltic's approach to the lockdown reflects airlines generally becoming more adept at responding fluctuating travel restrictions, Gauss suggests, aided by governments in Europe no longer imposing draconian border controls by default.
"You have to shift very fast so that you fly people to places where it's not that infectious, because [Covid-19] seems to come and go, come and go, and not even high vaccination levels are a guarantee that you're not going up in case numbers again, as we are seeing in Germany," he says.
"So we have to live with it, we have to adjust," Gauss continues, adding that "of course vaccination levels have to increase", which will eventually see the disease settle at levels that make invasive government actions unnecessary.
Indeed, citing an encouraging outlook heading into summer 2022, Gauss says Air Baltic's equity level should not need a boost beyond the €90 million ($102 million) injection from the Latvian state that is awaiting European Commission approval – a second such injection following the €250 million it received in 2020.
"We expect a decision before the end of the year," Gauss says of the second tranche of aid.
"I hope it gets approved, and with that we see in the forecasts that we will go back into profit," he states, noting uncertainties around the timeline for that process and acknowledging the potential for Covid-19 to spring further surprises.
But "we will not go a third time to our shareholders", Gauss insists.
An IPO – much discussed pre-Covid – remains the carrier's aim, with 2023-2024 now the target, Gauss says.
"We need to take the airline to the private market, to the stock exchange in 2023-24," he explains. "[Using the equity from the IPO] one priority is growth, to potentially order more aircraft, execute the options, but the other is we need to repay the government's [aid] money within five to seven years."
Noting that the state-owned carrier does that have the same options as Lufthansa Group – which recently used a capital raise to complete repayment of its government support – Gauss says: "We are going to do the same over time, by going to the stock market, having new shareholders bringing in new money and investing into a successful business."
Gauss also tells FlightGlobal that Air Baltic is expecting to receive eight more Airbus A220-300s next year, taking its single-type fleet to 40 aircraft.