Air Baltic is expecting to take a financial hit from the Latvian government's decision to impose a fresh month-long Covid-19 lockdown in the country, despite travel restrictions being unaffected by the move.
Local media reports cite a meeting between government ministers and Air Baltic management during which it was estimated that the lockdown, beginning on 21 October, would cost the state-owned airline €10 million ($11.6 million), as fewer people are expected to travel to Latvia.
Air Baltic acknowledges that estimated financial impact when presented with it by FlightGlobal, but notes that it only covers the four-week lockdown and that the carrier was already in "crisis mode".
"It will be possible to evaluate the impact of the current situation only in a few weeks' time," the Riga-based operator says.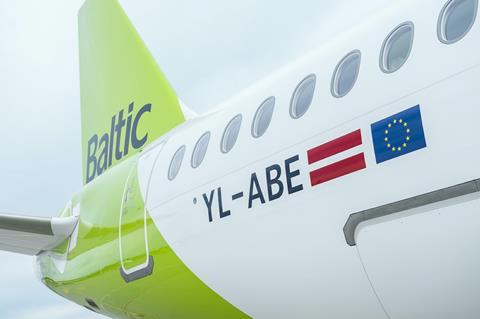 Air Baltic further notes that it "regularly reviews its flight schedule and makes the necessary adjustments" and that it will "continue to do it also throughout the upcoming winter season".
It also clarifies that transit passengers will be unaffected by the lockdown because the Latvian state "has not introduced any additional travel restrictions".
For passengers with trips to Riga already booked, however, Air Baltic "may offer certain additional flexibility" on a case-by-case basis.
As the month-long lockdown begins, the operator says that it has seen a spike in local searches for flights to warm destinations, speculating that interest in such services – including those to the Mediterranean region – is being "influenced positively by Latvians planning remote work outside the country".
As recently as 12 October, Air Baltic said it was encouraged by its September passenger traffic data and its outlook for the coming months. "While normally our traffic figures tend to decrease in the autumn months, this year the situation is different," said Air Baltic chief executive Martin Gauss. "With the help of eased travel restrictions and attractive leisure destinations, more people continue to travel."
The Latvian government agreed in August to grant Air Baltic another €90 million ($105 million) in equity for the purpose of alleviating pandemic-related losses and helping the airline recover from the crisis, but that investment is still awaiting approval by the European Commission.