An Icelease executive believes the cargo market has changed for good, driven by the growth of e-commerce, giving the lessor the confidence to place an order for 11 Boeing 737-800 converted freighters.
Speaking during a signing ceremony at the Dubai air show today, Icelease senior partner Magnus Stephenson said the Icelandic aircraft lessor sees cargo demand – which has sharply lifted since the pandemic – remaining strong.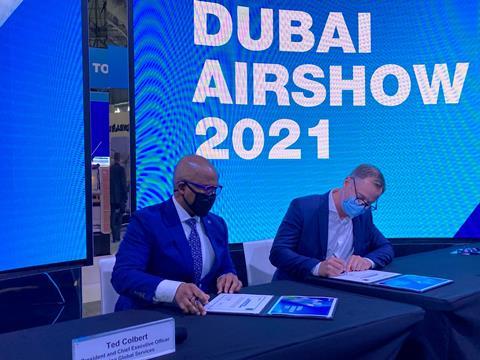 "We've spent a considerable amount of time researching various options in the freight market and we are convinced the 737-800 converted freighter is the one that fits our need and our customers' needs," he says.
Stephenson believes structural changes in the market mean that dedicated freighters will remain needed even with belly capacity on passenger aircraft returning to the market as international travel restrictions continue to ease.
He suggests the pandemic has accelerated these changes, noting: "E-commerce has entirely changed the outlook in our opinion. The regional air cargo market will continue to expand… and is probably there to stay.
"Belly space will be back in the air in due time but we are firm believers that the dedicated cargo aircraft are going to change the market for good."
Icelease will be the first customer for a new freighter conversion line that Boeing is opening at its London Gatwick MRO facility next year.
"Our first aircraft will enter the new Gatwick facilities in April of 2022 and we will have 11 slots, both at Gatwick and China. There will be 11 of them from April 2022 to September 2023, so it's a lot of aircraft in just over a year."
Boeing also today announced it is opening two further conversion lines in 2023 at the KF Aerospace MRO facility in Kelowana, Canada.
Ted Colbert, chief executive of Boeing Global Services, the division responsible for conversion activity, says: "We believe that from a market perspective, over the next 20 years there are going to be up to 1,200 narrowbodies converted into freighters and about 20% of that demand comes out of the European region, therefore placing capacity in that region makes it easier for our customers and sets up capability that is really needed, and diversifies capability around the world."