Pilatus has flown a new version of its proven PC-7 basic trainer, with a launch event for the "MKX" product to be staged at the Dubai air show on 15 November.
Branding its update as "the world's smartest basic trainer", the Swiss airframer is displaying a demonstrator in the static display area. Registered HB-HHH, the single-engined trainer features a raft of enhancements over the company's most recent PC-7 Mk II.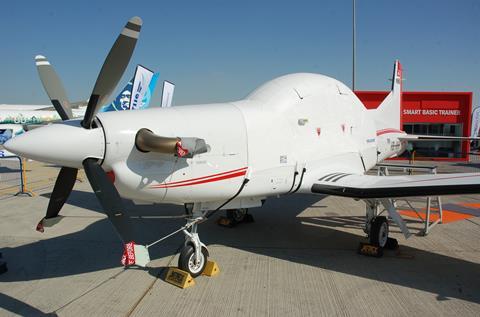 Key updates include a new cockpit featuring three high-definition, multi-functional displays, including a large primary flight display screen. This configuration will deliver "an easy entry into the world of modern avionics", says the company, which also highlights the airframe's "benign and forgiving flying characteristics".
Other avionics options beyond this baseline configuration include a synthetic vision system, autopilot and traffic advisory system, Pilatus says.
Additionally, the MKX model features "improvements in the area of crew comfort, and other technical innovations".
By drawing on what it describes as a "solid certification foundation" via its earlier PC-7 models, the company says its new airfarme will have a service life of at least 30 years.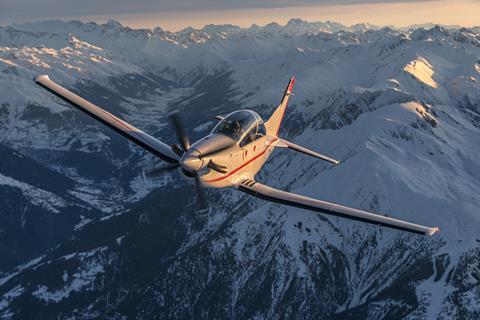 Offering the PC-7 in an updated guise provides Pilatus with an enhanced product beneath its faster and more agile PC-21, which has enjoyed considerable sales success, including with Jordan, Qatar, Saudi Arabia and the United Arab Emirates (UAE).
The company has previously supplied Mk II trainers to the air forces of Botswana, Brunei, India, Malaysia and South Africa, but has no remaining orders for the model.
The UAE also has 31 earlier-model PC-7s in its current inventory.
Pilatus says its update "is now available to take on a new generation of student pilots and turn them into first class military aviators".