The B-21 Raider will make its first flight in 2023.
That is the word from Northrop Grumman, which said on 25 May that the US Air Force (USAF) is now confirming that projection, which had previously been communicated in the company's first-quarter earnings report in April.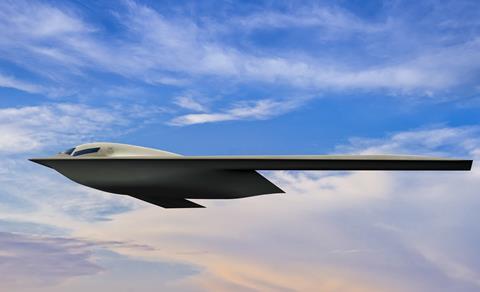 Northrop was awarded the contract to build the USAF's next-generation strategic bomber in 2015, beating a joint bid from rivals Boeing and Lockheed Martin.
Little is known about the secretive aircraft, other than it is intended to penetrate anti-access/area denial air defences to launch precision strikes with either conventional or nuclear bombs.
The Raider is named in honour of the famous Doolittle Raiders, who flew the USA's first bombing mission against Japan in the early days of its involvement in the Second World War. Northrop says its goal for the programme is to produce a stealthy aircraft that does not require the specialised materials, personnel and facilities needed to maintain other low-observable jets.
The Virginia-based company says the Raider will offer significant improvements over its predecessor, the B-2 Spirit, in terms of survivability, flight performance and ease of maintenance.
Northrop said on 25 May that it completed the first loads-calibration test on the B-21 earlier in the month, a major milestone in ground-based evaluations that will clear the way for flight trials. Loads calibration focuses on calibrating instruments and verifying structural integrity, with the airframe being subject to varying degrees of stress ahead of airborne testing.
The ground-testing phase will also include powering up the aircraft, subsystems evaluations and the application of coatings and paint. Next steps will include engine runs and low-speed and high-speed taxi tests, leading to first flight.
Northrop says it has six B-21 airframes in various stages of testing and development. The bomber is expected to enter limited production sometime next year.
During initial production, the government will purchase individual aircraft at a contractually set price. When the programme enters full production, Northrop and the USAF will negotiate a final per-unit price for each B-21.
Northrop expects full production to begin in 2026, with the B-21 fleet reaching initial operating capability in 2029.