Northrop Grumman has again successfully test fired the extended-range variant of the Advanced Anti-Radiation Guided Missile (AARGM) the company is developing for the US Navy (USN).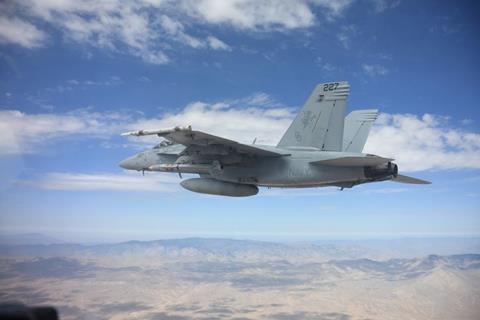 Northrop said on 8 May a test shot of the AARGM-ER successfully detected, identified, located and engaged an advanced, land-based emitter target.
The event marks the fifth consecutive successful test of the system for Northrop and the USN, in addition to the first firing of an AARGM-ER over land at "operationally-representative modern air defence system targets".
"AARGM-ER provides the navy with a demonstrated capability to stay ahead of adversary threats," says Gordon Turner, vice-president of advanced weapons at Northrop. "This successful live fire continues to prove the missile's extended range, readiness and effectiveness."
Anti-radiation missiles are used to target and destroy radars that are critical to enemy air defence systems. Weapons like the AARGM-ER can detect and lock on to the electromagnetic radiation emitted by such radars.
A predecessor to the AARGM-ER, the Raytheon High-speed Anti-Radiation Missile (HARM), has been used in Ukraine to target Russian air defences. The USA has provided Ukraine with the older anti-radiation missiles, to include assistance retrofitting Ukrainian RAC MiG-29 fighters to fire the American weapon system.
The more-advanced AARGM-ER is expected to reach initial operational capability with the USN sometime in 2024. The precision munition is being integrated into the service's fleet of Boeing F/A-18E/F Super Hornets and EA-18G Growlers, and Lockheed Martin F-35C fifth-generation fighters.
The US Air Force and US Marine Corps also plan to use AARGM-ERs on F-35s.
Northrop says the missile will provide the three services with a counter-air defence capability that will allow pilots to engage advanced and long-range threats while remaining outside the range of lethal enemy anti-air defence systems.