Military airframer Lockheed Martin and the US Air Force (USAF) have completed the first flight of a U-2 Dragon Lady surveillance jet using an upgraded avionics package.
Lockheed on 26 September said the company's secretive Skunk Works technology development unit made the flight in partnership with the USAF under the U-2 Avionics Tech Refresh (ATR) programme.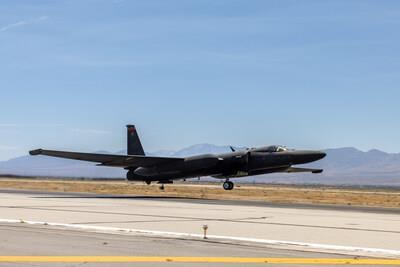 The aircraft successfully performed a low-altitude functional check flight to integrate new avionics, cabling and software, Lockheed says. The aerospace manufacturer received a $50 million USAF contract in 2020 to modernise the fleet of Cold War-era high-altitude spy craft.
"The successful first flight of the U-2 Avionics Tech Refresh is a significant moment in our journey to rapidly and affordably field new capabilities," says Sean Thatcher, U-2 Avionics Tech Refresh programme manager at Skunk Works.
The ATR package includes modern cockpit displays that Lockheed says will make pilot tasks easier, including enhanced presentation of the data collected by the aircraft to "enable faster, better-informed decisions".
A new onboard mission computer will also allow the U-2 to integrate with contemporary battlefield platforms, including modern aircraft, satellites and cyber warfare systems.
Lockheed notes the improvements are built using the Pentagon's open architecture requirements – which are meant to break so-called "vendor lock" by original equipment manufacturers and allow the faster and cheaper integration of new capabilities into existing platforms.
With the open architecture features included in the ATR package, Lockheed says the U-2 is on path to become the first aircraft type to achieve fleet-wide compliance with the Pentagon's open mission systems requirements.
The USAF operates a fleet of 26 U-2 jets, according to Cirium data.
While the iconic spy plane is normally associated with secretive, high-altitude reconnaissance flights over the Soviet Union during the Cold War, the U-2 continues to prove useful in the modern era of great power competition.
During the unsanctioned, multi-day overflight of US territory by a Chinese balloon in February 2023, a USAF U-2 pilot made direct observations of the mysterious craft at an altitude of around 65,000ft.
That flight included the pilot taking a cockpit selfie with the balloon.
With a service ceiling exceeding 70,000ft, the U-2 was the only aircraft in the inventory capable of flying above the Chinese balloon, which Beijing claims was an errant weather monitoring station, but Washington called an espionage platform.

Ryan Finnerty is the Americas defence reporter for FlightGlobal.com and Flight International magazine, covering military aviation and the defence industry. He is a former United States Army officer and previously reported for America's National Public Radio system in New York and Hawaii covering energy, economics and military affairs.
View full Profile