Miami finance company 777 Partners has ordered 30 additional Boeing 737 Max, including an unspecified number of Boeing's high-density 737 Max 8-200 variant.
The deal marks 777 Partners' fourth announced order for 737 Max this year, bringing its total orders for the narrowbody to 68 aircraft, Boeing says on 7 December.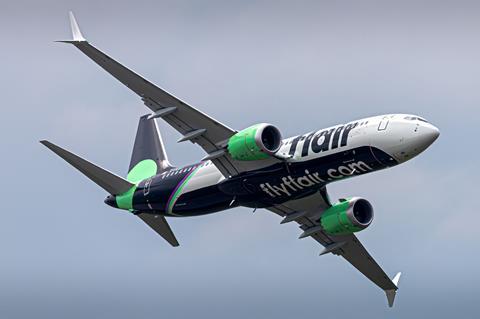 777 Partners has already received six 737 Max 8s, all of which are operated by Canadian discounter Flair Airlines, according to Cirium data.
The finance company expects to receive the newly ordered jets in 2024 and for them to be operated by Flair and an Australian start-up called Bonza, which aims to be airborne in the first half of 2022, 777 Partners says.
777 Partners holds a minority equity investment in Flair and a majority stake in Bonza, and will lease the jets to the airlines.
"The order will enable 777 Partners to expand 737 Max operations across the fleet of its affiliated global low-cost carriers," Boeing says.
"We have long been confident in the economics of the 737 Max family, but we are especially excited about the [Max 8-200] variant, which represents the bulk of our additional orders," says 777 Partners managing partner Josh Wander.
Amid the airline industry's recovery, 777 Partners has "accelerated our quest for efficiencies in both operating cost and carbon footprint at our operating carriers", Wander adds. He calls the 737 Max 8-200's efficiency "unrivalled".
With an additional pair of exit doors and other changes, 737 Max 8-200s can carry 197 passengers – 19 more than the baseline Max 8, which can carry up to 178 passengers. Other 737 Max 8-200 operators include Irish budget carrier Ryanair.
777 Partners separately ordered 24 737 Max in March, eight in August and another six in September.
Story updated on 8 December to include details from 777 Partners about timing and which airlines will operate the 737s. Updated on 10 December to include more details about 777 Partner's ownership of Bonza and Flair.