The director general of IATA has described Airbus's cancellation of a Qatar Airways A321neo order as a "worrying development", as he highlighted the airline industry's desire for "healthy competition" between the two big airframers.
Speaking during a media briefing on 25 January, Willie Walsh noted how unusual it was for an airframer to cancel a customer order, saying: "I've tried to think back to when a manufacturer cancelled a contract with an airline… it has happened on very rare occasions… because the airline couldn't afford to pay for the aircraft, which clearly isn't the case with Qatar Airways."
Walsh suggests he could "probably list 100 airlines who would like to have cancelled their contracts with Airbus in 2020 but Airbus were definitely not willing to allow those airlines to do so", in a reference to the early months of the Covid-19 crisis.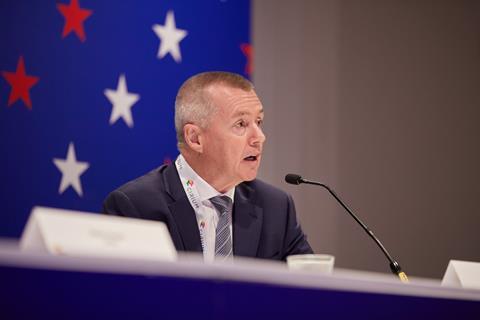 He further describes it as "a challenge for the industry that – no disrespect to Embraer – you have [only] two suppliers" in the shape of Airbus and Boeing, making it "critical" for there to be "good, healthy competition" between them.
Boeing, however, "had some challenges and continues to have some challenges", he states, with Airbus seen as being in the ascendency.
"I would hate to think that one of the suppliers is taking advantage of their current market strength to exploit their position," Walsh says.
The industry is "watching very closely… how Airbus responds to their customers", he adds, amid a desire to return to a "more normal relationship between suppliers and airlines".
Walsh clarifies that he views both Airbus and Boeing as "excellent companies".
On the specific issue with A350 paintwork at the heart of the Airbus-Qatar Airways dispute, Walsh says that "most, if not all of us have seen photos of the A350s" and will "want to understand what has caused that issue".
Airbus confirmed on 20 January that it had terminated a contract to sell 50 A321neos to Qatar Airways amid the ongoing dispute between the companies over alleged A350 quality issues.