British Airways and Iberia parent IAG now expects to take delivery of 75 aircraft over the next three years as it reduces its fleet requirements in line with expectations that passenger demand will not return to pre-crisis levels before 2023.
The new fleet plan marks a reduction of 68 on the number of aircraft deliveries it had originally planned to take over 2020 to 2022, the bulk of which will be short-haul aircraft. The fleet plan covers all IAG carriers, which also includes Aer Lingus and Vueling alongside BA and Iberia.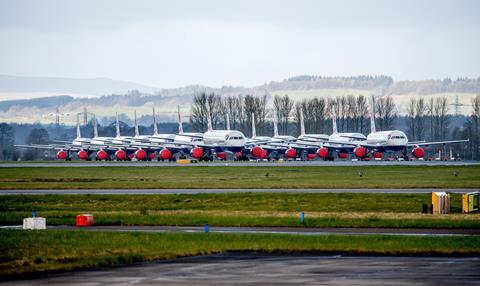 IAG had originally expected to take 143 aircraft over the next three years.
It now expects to take 38 aircraft this year - six fewer than originally planned. This comprises three short-haul and three long-haul aircraft.
Year
Short-haul deliveries
Long-haul deliveries
Total deliveries
2020
16 (-3)
22 (-3)
38 (-6)
2021
6 (-27)
9 (-)
15 (-27)
2022
13 (-27)
9 (-8)
22 (-35)
Total
35 (-57)
40 (-11)
75 (-68)
Source: IAG Q1 results presentation
While IAG still plans to take nine long-haul aircraft in 2021, it now expects to add only six short-haul aircraft next year. This would be a deferral of 27 aircraft.
It expects to defer a further 27 short-haul aircraft deliveries in 2022 in taking 13 aircraft. It will also defer eight planned long-haul aircraft deliveries in taking nine aircraft.
"I think when we look at our fleet plan, we have seen a very significant shift in what the plan was when we announced it in November last year to what it will be for 2021 and 2022, and you do need to factor in the flexibility we have with the existing fleet and leased aircraft," said IAG chief executive Willie Walsh, speaking during a first quarter results briefing today.
"Given that a number of aircraft are already financed from a cash point of view it makes sense for us to take the aircraft because we will have paid pre-delivery payments, so when we take the aircraft and then put the financing in place, there is actually a cash-benefit to us."
He notes the larger share of planned short-haul aircraft deferrals is a reflection of a number of issues. "It reflects the current fleet we have [and] the need to replace that, the availability of the aircraft to fit with some of the network plans we have, so it's not a single issue," Walsh says.
He adds both Boeing and Airbus have been "very positive" with their engagement with the company.