Middle Eastern carrier Royal Jordanian Airlines has firmed-up orders for eight Embraer E2-family jets following a memorandum of understanding signed with the airframer in October last year.
The MoU was part of a broader fleet-modernisation strategy announced by the Oneworld carrier, which also includes a commitment for 20 Airbus A320neo-family jets and, potentially, an order for more Boeing 787s.
Partly through lessor Azorra, Royal Jordanian will receive eight Pratt & Whitney PW1900Gs-powered E2 aircraft, Embraer said on 18 May, equally split between E190-E2s and E195-E2s. They will be delivered from the fourth quarter of this year.
The four E190-E2s and two of the E195-E2s will come from Azorra's existing backlog with Embraer, while the remaining two examples of the latter will be received via a new, direct order from the airline.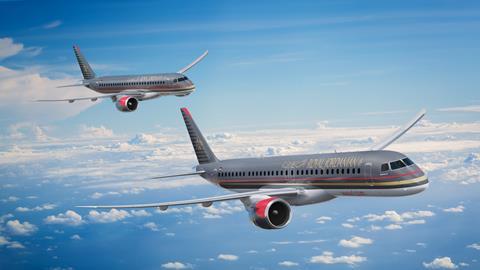 Royal Jordanian does not say whether it still intends to order 10 E2s in total, as was covered by the MoU.
"RJ has been operating Embraer aircraft for 15 years, and the E2 reduces the investment cost of pilot training and spare parts provisioning significantly, whilst also lowering crew scheduling and maintenance costs," says Royal Jordanian chief executive Samer Majali.
"The aircraft also provides 25% fuel savings compared to current aircraft, resulting in operating cost savings as well as significant carbon emissions reductions supporting the airline's environmental strategy and targets."
Royal Jordanian's E195-E2s will feature 12 business-class seats and 108 in Economy. The smaller E190-E2 will also have 12 business-class seats, and 80 in Economy.
Under its modernisation plan, Royal Jordanian intends to increase its fleet from 24 aircraft currently to more than 40 over the next five years.