Due to take flight in 2024, Dassault Aviation's flagship Falcon 10X will combine home comforts with ultra-long-range performance and flight-control technology derived from the Rafale fighter.
In developing the Falcon 10X, Dassault Aviation had one overarching consideration: what could it bring to the very top of the business jet sector that was unique and desirable?
"We asked what a newcomer would bring to the market," says Carlos Brana, executive vice-president, civil aircraft at the French airframer.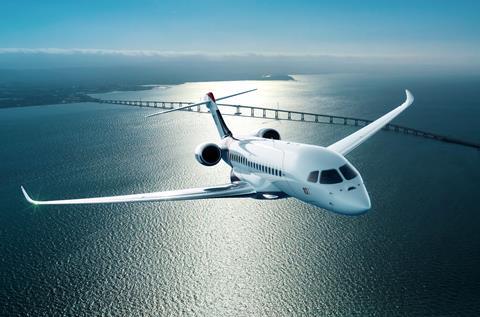 Range and speed were two prime attributes – in this case 7,500nm (13,900km) and Mach 0.925 – but, says Brana, Dassault then thought "and what else?"
"When we looked at the range of the airplane and the duration of the maximum flight – more than 15 hours – 'what else' clearly needed to be more interior space."
HOME COMFORTS
Brana argues that passengers aboard such a flight are not sitting passively for the full duration – they move around the cabin, interacting with each other and their surroundings. Dassault wanted to make the experience as close as possible to enjoying the comfort of one's home.
In addition, with such long trips, it was vital also to consider the pilots, "so that they could feel rested even after a more than 15-hour flight".
As a result, the cabin, at 2.77m (9.1ft) wide and 2.03m high, is considerably roomier than those of the Falcon 10X's ultra-long-range rivals, the Bombardier Global 7500/8000, and Gulfstream G700/G800.
It is also larger than the cabin on Dassault's own Falcon 6X, which at 2.58m wide and 1.98m high is billed by the airframer as an "extra-wide-body" jet.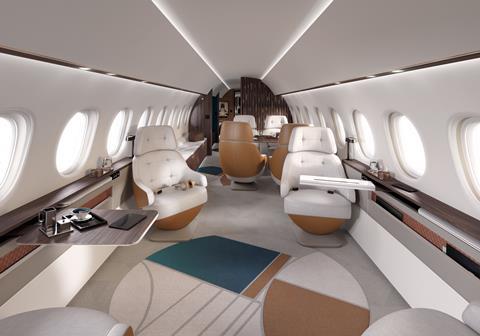 A roomy fuselage is clearly a benefit to passengers, but only in concert with the other elements delivering comfort. Brana cites low‑altitude cabin pressure (3,000ft at a 41,000ft cruising altitude); a uniform diffusion of natural light thanks to 38 cabin windows; ultra-low noise levels owing to next-generation vibration isolators and other tricks of the noise reduction trade; and a smooth ride thanks to a digital flight control system (DFCS) that removes the bumps.
In combination, these are a persuasive mix of attributes for customers, he argues. Additionally, "The interior possibilities truly differentiate the aircraft. One can have not just a bed, but a full, queen-size bed. Not just a small shower, but a spacious, 6ft 2in shower with an electro-chromatic window and a generous 30-minute supply of hot water. Not just a dining table, but one you can seat yourself at without the indignity of wriggling in and out of the seats. Instead, occupants can separate the seats and easily step in and out."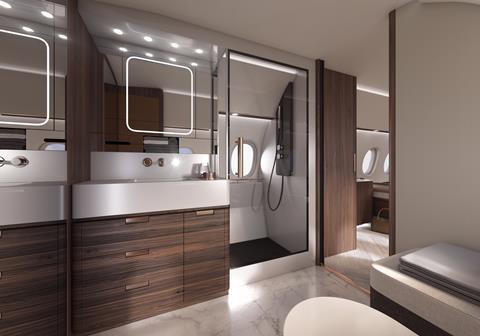 Interior designers have great flexibility to create longer lounge spaces or shorter ones – for a cosy entertainment centre, for example. This adaptability goes with the philosophy of creating a homelike environment with personalised spaces, Brana says.
In practice, what that means is rather than having four cabin zones of equal length, they can be customised – say, for a larger state room to suit the owner's requirements.
COMMAND CENTRE
There are only two places in life where an executive might spend 15h consecutively – their home and their office, Brana notes, adding: "Our aim is a homelike environment that also functions as an airborne command centre for the CEO, where he or she can work in comfort with a core team and communicate over high-speed internet from anywhere in the world."
The 10X's cabin can also include one or more optional Falcon Privacy Suites, a recent innovation from Dassault Aviation's engineering and interior design teams. Separated from the cabin aisle by an adjustable mid-height partition, the seat is electrically operated and reclines to a full-flat position to create a comfortable 2.03m-long bed. When not fully reclined, the extra seat serves as an ottoman for a second occupant.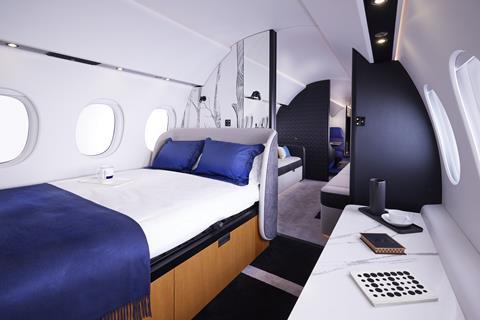 Privacy, Brana suggests, is another important ingredient for a restful experience, adding that, even on a large business jet, true privacy is at a premium, especially for sleeping.
"The Falcon Privacy Suite answers a need that has not been addressed previously in business aviation," he says. "It's a delightful personal space and a great place to retreat to work on one's own or rest."
The art and science of proper rest also extends to the flightdeck. "We put more space in the flightdeck, with the idea that in the future we will be able to certify a rest position where a pilot could recline one of the seats to have a sort of lie-flat bed. One pilot could be flying and the other resting."
Brana says this feature will not be available at service entry, but that Dassault is working on developing the systems that would enable at least a rest interval for one pilot.
In the here and now, the Falcon 10X's flightdeck still brims with new technology and innovations. It has the latest generation of DFCS derived from the Rafale fighter and first introduced on Falcon business jets with the 7X in 2005.
The system's fly-by-wire smart sidesticks feature flightpath stability, removing the need to manually trim the aircraft. A single throttle lever – which Dassault calls the Smart Throttle – controls both engines, with the reverse thrust and airbrake controls also integrated into the lever. This too is technology derived from the twin-engined Rafale and intended to aid pilots in high-workload phases of flight.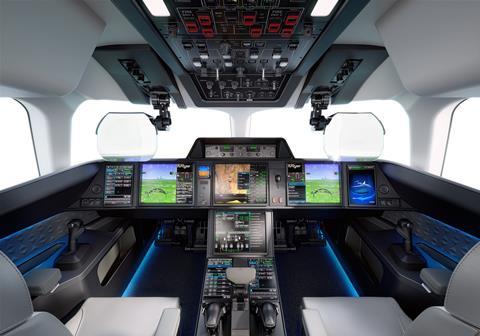 The Smart Throttle is linked to the DFCS, which can control the engines – for instance, increasing thrust as necessary as the sidestick is pulled back.
Linking the Smart Throttle to the digital flight controls permits Dassault to introduce an upset recovery function (activated by a single button on the main panel) which will return the jet to straight and level flight. That system, another carry-over from the Rafale, has already been evaluated on the company's Falcon 7X testbed.
Advanced autothrottle and autopilot modes have been added, such as 'soft go-around', emergency descent, reduced take-off thrust, and noise abatement climb.
A simplified digital checklist is incorporated, while enhancements have been made to the head-up display (HUD)-based FalconEye combined vision system, enabling its use as primary instrumentation. Optional dual HUDs will probably lead to approval in the future to land in near zero-zero conditions.
The overhead panel is also slimmed down, with many switches now transferred to touchscreen displays.
The Falcon 10X marks the first use of a Rolls-Royce engine on a Falcon. The Pearl 10X engine is the latest and largest in the Pearl series, delivering more than 18,000lb (80kN) of thrust. New materials and internal aerodynamics make it one of the most efficient engines in business aviation. It also features new self-diagnostics for reduced maintenance.
The Pearl 10X has already logged more than 1,000h of testing, including runs on 100% sustainable aviation fuel.
PEARL PROGRESS
In total, R-R will use eight engines for the Pearl 10X test programme: four for ground-based evaluations and another four for flight testing. Those flight tests are set to be conducted in 2023 using the manufacturer's Boeing 747-200 flying testbed (N787RR) in Tucson, Arizona.
Flight testing should take about six to nine months, as the Pearl 10X benefits from its similarity to the Pearl 700, says Philipp Zeller, head of the Pearl 10X programme. The powerplants share a common architecture and dimensions, including a 132cm (52in)-diameter fan.
However, there are some internal differences, including the application of 3D-printed tiles in the Pearl 10X's combustion chamber, allowing it to better manage the increased temperatures driven by higher-thrust operations.
Long accustomed to building large and strong composite structures for the Rafale, Dassault elected to build its first all-composite wing for the 10X (the fuselage is aluminium). The carbonfibre wing provides ultra-precise aerodynamics and weight reductions, Brana says.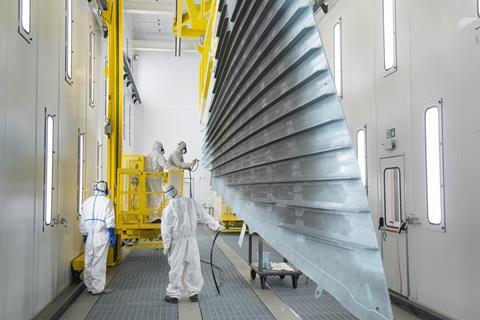 At 33.6m, the wingspan is almost 8m more than on the Falcon 6X. The new wing has a sweep angle that delivers efficiency at the jet's higher cruise speeds of M0.85 and above. It also features retractable high-lift devices, ensuring short-field and steep approach performance.
The first 10X wing, built in a new assembly hall at the airframer's site in Biarritz, southwest France, is now undergoing fatigue and static testing.
FINAL ASSEMBLY
Manufacturing of long-lead items for the Falcon 10X is already under way throughout Dassault's network of factories and those of its suppliers. Final assembly will take place during 2023 at the airframer's site in Merignac, near Bordeaux, ahead of a first flight tentatively scheduled in 2024.
A company demonstrator aircraft will be the first production serial unit and should enter service in 2025, before the start of customer deliveries the following year. Brana, as per company policy, declines to reveal the backlog for the jet, but says "interest is high", with potential customers "seduced by what we are proposing".
"We promoted the airplane as a penthouse in the sky and when you visit the cabin mock-up you really see that," he says.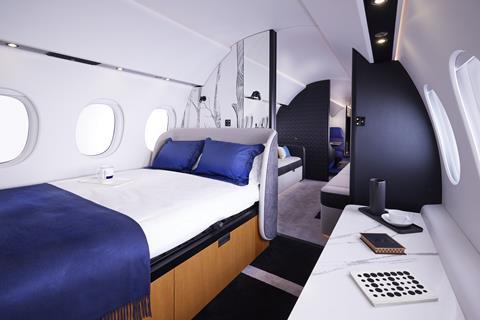 While its competitors have slightly longer range, at up to 8,000nm, Dassault believes the 10X's combination of range and speed are ideal for the global travel requirements of its customers.
"Range beyond 7,500nm is quite rarely required. Dassault's idea is to provide the most attractive package, including accessibility to smaller airports, fuel efficiency, advanced safety technology and, above all, comfort – where the 10X has no rivals," Brana says.
"It is all-new, embodying the most advanced technology and our best thinking on what makes for an exceptional passenger experience. We are certain many customers will agree."
Cutaway drawing by Tim Hall.