It is 55 years since the concept first captured the world's imagination when the late Sean Connery strapped on a Bell Aerosystems Rocket Belt and took off from a chateau roof to evade enemy agents in the opening sequence of the James Bond movie Thunderball. Now could the so-called personal propulsion device finally be on the brink of a commercial, or military, breakthrough?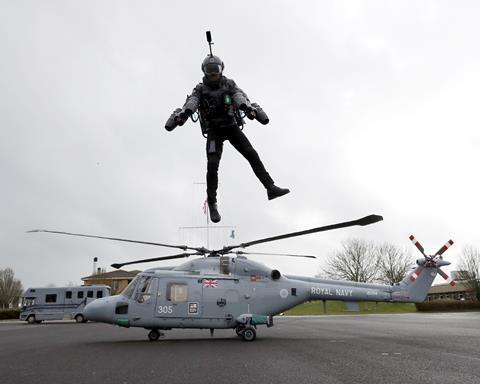 There have been any number of attempts to develop a practical jet suit or jet pack since Bell demonstrated the futuristic Rocket Belt to the US Army in 1961 as a potential asset for special forces; commanders were unimpressed with the hydrogen peroxide-fueled contraption's inability to provide more than 21sec of flight time and the project was abandoned.
Successful efforts include those of "Jetman" Yves Rossy, a Swiss aviator and inventor who has performed with his back-mounted personal flight pack around the world, including accompanied by an Emirates A380 in the skies over the 2015 Dubai air show. Despite this, Rossy has never intended his one-off machine to be anything other than for entertainment, at least not in the short term.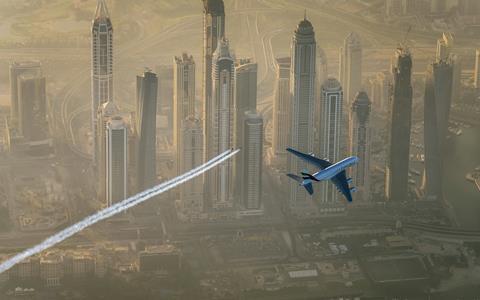 The closest a company has come to bringing a personal propulsion device to market has been the rather cumbersome ducted-fan Jetpack devised by Martin Aircraft of New Zealand (no relation to Lockheed Martin). However, 10 years after unveiling its $100,000 product at the AirVenture show in Oshkosh in 2008 – and attracting a flurry of interest – the business ran out of money and ceased trading.
The latest developer confident of surmounting the financial, technical and regulatory challenges of delivering personal propulsion – if not to the everyday consumer then to a specialist customer base such as the military and mountain rescue teams – is UK start-up Gravity Industries. It has demonstrated its patented, single-engine Jet Suit in more than 100 sorties in 31 countries since launching three years ago.
Its most recent high-profile trial was in England's Lake District in September when Gravity's founder and chief executive Richard Browning illustrated how the Jet Suit might be used by a paramedic to deliver critical care in a mountain rescue emergency. Working with the Great North Air Ambulance Service (GNAAS), he flew for 90sec from a valley bottom in Langdale Pikes to a simulated casualty site on a hillside.
According to GNAAS, which had been working with Gravity on the project for a year, to reach the victim by foot in a similar situation would have taken an exhausting 25 minutes. "We didn't know for sure how this would work in practice," said GNAAS director of operations Andy Mawson at the time. "We've seen it now and it is, quite honestly, awesome."
GNAAS says it is "exploring the next steps" in its partnership with Gravity. However, Browning, a former BP oil trader and UK Royal Marines reservist, cautions that putting the Jet Suit into operation in the search and rescue field will require a Mark 3 version. The company is working on that and he says that during "late spring" he hopes to have "carefully managed operational trials underway".
Browning launched Gravity in March 2017, after securing $650,000 from two investors. The first suit used a single gas turbine engine. Later iterations came with two, four and six turbines. Eventually a five-engine configuration was chosen that weighs around 25kg and is normally flown with an additional 10kg of Jet A1 or diesel. It generates 1,050hp (783kW) or 144kg of thrust for vertical lift. The pilot changes direction by vectoring an engine attached to his arm.
Gravity has produced five suits so far and says the device is capable of forward speeds in excess of 43kt (80km/h) and technically reaching an altitude of 12,000ft, although for safety reasons it is flown much lower. Typical flight durations are between 1min and 3min, although, depending on conditions, 10min is possible, giving a potential range of around 11km, claims Gravity. However, the longest distance flown to date is 1.4km.
Browning says aviation authorities, including the UK CAA, have allowed demonstrations even though the product does not fall into any existing aircraft categories. "Because of our record and self-regulating and the experience of former military pilots in our team, they are happy as long as we don't fly too high or over people or property," he says.
"But if at some point the regulator stepped in, it wouldn't be a problem. This is not a mass market thing, so I think we can avoid [excessive regulation]." Unlike emerging sectors such as electric vertical take-off vehicles (eVTOL), "we are not out to disrupt mainstream transportation", he says. Gravity has sold two examples to US customers "who insisted" on paying $440,000 per suit. However, Gravity has kept the equipment and "we make it available to them when they want", says Browning.
He maintains that one of the characteristics that differentiates the Jet Suit from other personal propulsion devices such as the ill-fated Martin Jetpack is that "we fall below a line above which is a machine that you are strapped to rather than being part of the machine. We have kept the human at the core of it all."
While mountain rescue is an obvious application, a perhaps more potentially lucrative target for Gravity might be the military market Bell tried to tap six decades ago. Browning says he has demonstrated the product to defence organisations, including the UK Ministry of Defence. "If you want to move a special ops operative quickly or insert them, and others from different directions, into a location in a way that's hard to detect, it's hard to see anything that can get close," he says.
Los Angeles-based JetPack Aviation has been offering what it calls the "world's first portable JetPack" since 2016, after spending around five years designing the device. Founder and chief executive David Mayman flew the JB9 prototype JetPack around New York's Statue of Liberty in November 2015 in what the company claims was the first US Federal Aviation Administration-approved flight of such a machine. Since then, it has demonstrated the device in six countries.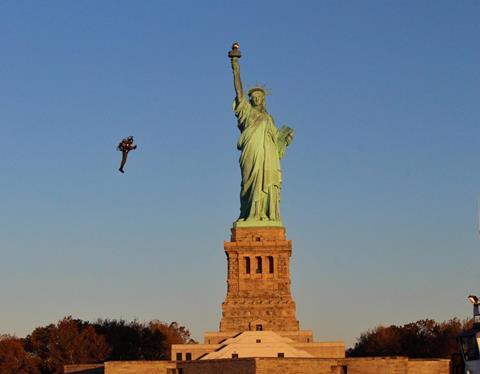 The JetPack's designers included Nelson Tyler, who worked on the original Bell Rocket Belt that was also flown at the opening ceremony of the 1984 Olympics in Los Angeles. The company went on to develop two more products between 2016 and 2018: the 38kg JB10, which produces 90kg of thrust, 15% more thrust than the original JB9, and the 52kg JB11, which uses six 400N-thrust engines rather than the two 900N plants in the JB10, each delivering around 40kg of thrust.
The company claims an 8min endurance and maximum speed of 192km/h for the JB10. The JB11 has an endurance of 10min, and a computer that balances the thrust between the engines. The pilot controls the JetPack by "vectoring the entire engine, rather than just vectoring thrust", says the company. "This is how we achieve such great manoeuvrability and speed control." Both types can be flown under FAA rules, under certain conditions, without a pilot's licence as an ultralight vehicle.
Perhaps the person who has done most to bring personal propulsion to a wider audience is Rossy. After developing his jet-powered, 2.4m-wide mounted wing in the early 2000s, the former Swiss International Air Lines and Dassault Mirage pilot flew over the Alps in 2008, and later that year crossed the English Channel after jumping from a Pilatus Porter at 8,200ft over Calais. In 2015, he and Vince Reffet flew their choreographed demonstration with the A380 over Dubai.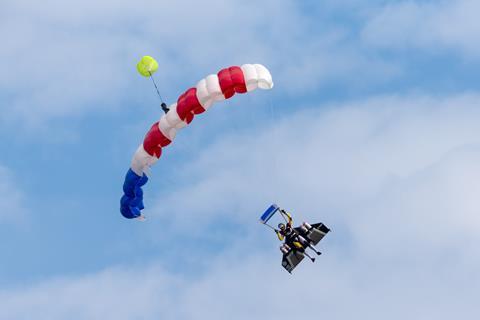 One of the drawbacks of Rossy's original design has been that, although it allowed powered flight at altitude, it entailed jumping from an aircraft and landing with a parachute, something he claims to have addressed with his latest machine. In December last year he announced that by deploying four, more powerful, vectoring German-made JetCat P550 micro-jet engines, he could now take-off vertically at up to 180km/h and land without a parachute.
Videos on his web site show Rossy testing the vertical take-off and landing kit inside a hangar, tethered by a safety rope, and then, at a height of a few metres, over a lake. While Rossy believes he can use his body to control the flight direction, two challenges remain: transitioning to horizontal flight once there is sufficient vertical acceleration to provide lift in aeroplane mode, and landing safely if something goes wrong at too low an altitude to deploy a parachute.
At the 2015 Dubai air show, Martin Aircraft was confident of delivering the first customer Jetpack the following year, with the United Arab Emirates touted as a possible buyer. However, despite investment from Chinese firm KCS, and taking on around 100 staff, the Christchurch-based firm failed to secure any revenue and ran out of money in 2018. It ended a 30-year dream for founder Glenn Martin, who began work on the concept in his garage in the 1980s.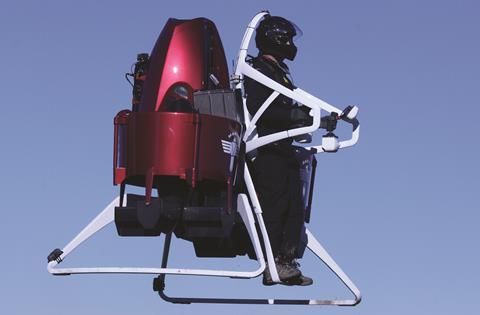 The Jetpack, which had a microlight certification from the New Zealand aviation authorities, was powered by a V4, two-stroke gasoline engine, generating 200hp (150kW), driving two ducted fans to provide lift. A pair of joysticks allowed the pilot to control throttle and pitch. The 125kg device, which had a flight ceiling of 2,500ft and an endurance of up to 45min or range of 20km, was able to carry a 120kg human.
Others which have developed personal propulsion devices include Denver-based Apollo Flight Labs, a spin-off from the company behind the Apollo chewing gum brand. Two years ago it auctioned prototypes of its turbine-powered JetPack and its JetBike, which it claims is the "world's first jet engine-powered flying motorcycle".
Apollo, which claimed to have performed more than 1,000 demonstration flights with the JetPack, which was listed at a retail price of $179,000, said buyers would be provided with "familiarization flights on our training systems", adding that it was "aware of the risks involved with piloting these machines". The company is no longer producing the devices.
The opportunity of powered personal flight – as opposed to gliding – continues to fascinate despite the laws of physics, and economics, that conspire against a breakthrough of the technology into the enthusiast market. On 30 August, two pilots reported seeing a mystery man in a jetpack, flying at around 3,000ft, dangerously close to the approach path to Los Angeles International airport. The strangest aspect of the story: no jetpacks on the market are capable of flying at that high an altitude.
This article was completed prior to the tragic death of Vince Reffet on 17 November, while training in Dubai. We send our condolences to his family, friends and Jetman Dubai colleagues.