Boeing appears set to miss a critical December deadline to secure certification for its 737 Max 7, after it was late in providing some supporting assessments to the US Federal Aviation Administration.
The FAA brought the issue to Boeing's attention in a 19 September letter to Mike Fleming, the airframer's senior vice-president of the 737 Max's return to service, according to a Reuters report.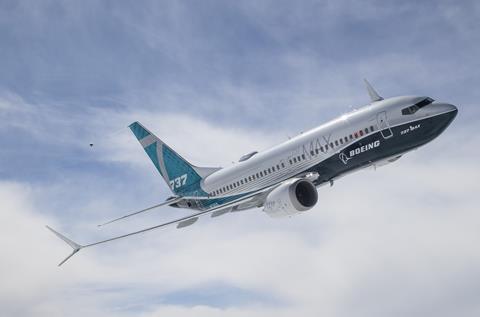 "As you are aware, the FAA communicated that Boeing must turn in all remaining System Safety Assessments (SSAs) by mid-September if the company intends to meet its project plan of completing certification work (and receiving FAA approval for this airplane) by December 2022," says the letter, signed by FAA executive director of aircraft certification Lirio Liu.
As of 15 September, the FAA had accepted about 10% of the Max 7 assessments and was reviewing another 70%, the letter says.
"Most concerning, however, is that Boeing has yet to provide an initial submittal for six of the outstanding SSAs," it adds. "We expect many of these documents will take significant time to review due to their complexity and bearing on the overall safety of the new aircraft."
Additionally, Liu's letter cites "continuing" discussions between Boeing and the FAA "about realistic timeframes for receiving the remaining documents".
Boeing had been working to get the Max 7 approved before a December deadline after which newly certificated aircraft will require a type of modern cockpit alerting system currently absent from the narrowbody. The company is also working to certificate the Max 10 sometime after the Max 7.
Boeing says it "is focused on meeting all regulatory requirements to certify the 737-7 and 737-10, and safety remains the driving factor in this effort".
"We will continue to prioritise being thorough and transparent in our documentation and interactions with the FAA, and following established processes to ensure safety and compliance above all else," the company adds.
The FAA will "maintain sufficient staffing to complete the necessary safety reviews in a timely manner", the agency's letter states. "But such work must be completed deliberately and in such a way that an arbitrary calendar date does not become the driving factor."
The cockpit alert requirement comes from a law, stemming from two fatal Max 8 crashes, signed by then-President Donald Trump on 27 December 2020. Starting two years after its enactment, the FAA cannot certificate transport aircraft lacking a "flightcrew alerting system".
As recently as 21 September, Boeing chief executive David Calhoun had said he thought the Max 7 would make the December deadline.
Meanwhile, the Allied Pilots Association (APA) union, which represents pilots at American Airlines, has revealed its opposition to any request for an equipment certification exemption for the Max 7 and Max 10 models.
FLIGHTDECK REALITY
According to a separate letter from the FAA to a federal government committee, Boeing does not expect to receive approval in time.
"We oppose any extension of the exemption and don't agree with Boeing's claim that pilots could become confused when moving from an airplane without the modern alert system to one that is equipped with it. Nothing could be further from our flightdeck reality," says APA president Edward Sicher.
"Boeing needs to proceed with installing modern crew-alerting systems on these aircraft to mitigate pilot startle-effect and confusion during complex, compound system malfunctions," he adds.
"Once these systems are installed and pilots have been properly trained on them, our crews will be better able to identify system failures and prioritise corrective actions that could save lives."
According to Cirium fleets data, Fort Worth-based American has no pending orders for either the Max 7 or Max 10. The carrier currently operates 42 Max 8s, and has a further 87 on order. It also operates 279 examples of the previous-generation 737NG series.
American's major airline competitors, however, have almost 500 of the two new models on order. United Airlines has 237 and Delta Air Lines has 100 of the Max 10 on order, and Southwest Airlines has orders for 160 Max 7s. In recent months, Qatar Airways (25) and Canada's WestJet (42) have also placed substantial orders for the Max 10.
For its part, Delta is still counting on the US aviation regulator to certificate the Max 7 and Max 10 without requiring extensive and expensive cockpit modifications.
ALTERNATIVE NEEDED
However, the Atlanta-based carrier said on 13 October that it also has discussed an alternative plan with the airframer.
"There is a plan B, and when we made the decision to buy the [Max] 10 we had a lot of conversations with Boeing because it's a big part of our capacity and we want to make certain that we are not going to be left without an alternative," says Delta chief executive Ed Bastian.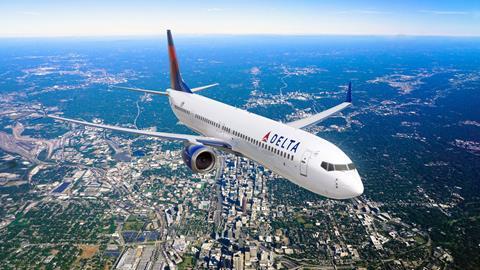 "We are not talking about [plan B] right now, but we remain optimistic that it will get certificated," Bastian adds.
No details of the back-up plan have been disclosed, but it is likely to involve an order for the smaller, but already certificated Max 9.
Meanwhile, Boeing ramped up its aircraft deliveries and logged a solid month of orders in September, handing over 51 jets and securing deals for 96.
Up from 35 the previous month, the shipments total included 36 Max-family aircraft, and seven 787s. The orders total included 51 Max-family aircraft, among them the 42 for WestJet.
By the end of September, Boeing had so far this year delivered 328 aircraft, received orders for 542 and logged 114 cancellations.