Accelerated plans to develop and field a next-generation tanker have raised questions about the US Air Force's need to plug a gap as its venerable KC-135s head for retirement.
When it comes to the future of aerial refuelling in the US Air Force (USAF), the service has a definite goal.
In the short term, it will continue recapitalising part of its aged fleet of Boeing KC-135 tankers, via an ongoing acquisition of 179 Boeing KC-46A Pegasus refuellers. Beyond that, the service is seeking to develop a low observable tanker capable of operating in contested environments.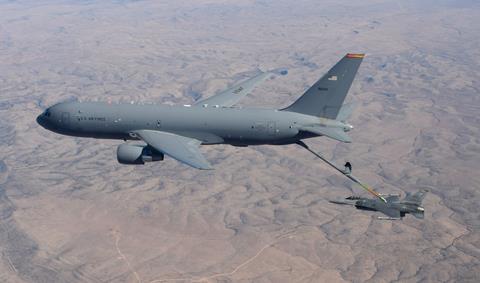 Known as the Next Generation Air Refuelling System (NGAS), this clean-sheet design is the subject of an ambitious schedule, with its introduction targeted during the 2030s.
But what happens in the years between the completion of currently-planned output of the 767-based KC-46A and availability of the NGAS platform remains undetermined.
CAPABILITY GAP
The USAF had originally planned to acquire a so-called "bridge tanker", also known as KC-Y, to fill the gap until NGAS deliveries began in 2040.
Currently, Lockheed Martin is the leading – and so far only – active contender for a KC-Y need. The prime contractor has put forward its LMXT platform; a further development of the Airbus Defence & Space A330 multi-role tanker/transport (MRTT) that is in widespread use today.
Lockheed's industrial plan for the USAF is to convert A330-200s assembled by Airbus in Mobile, Alabama at its Marietta site in Georgia. In early June, it also confirmed that the LMXT will be powered by GE Aerospace CF6-80E1 engines, with the powerplant having been selected "due to its proven durability, reliability and performance".
"We see the LMXT as an integral part of the future NGAS family of systems, and we see this aircraft being able to enable NGAS and that family of systems that will come in the future," says Larry Gallogly, head of business development for the Lockheed campaign. He argues that the next-generation stealth tanker will need a "mothership" to support it with additional fuel, long range performance and a communications capability to direct missions from a safer distance.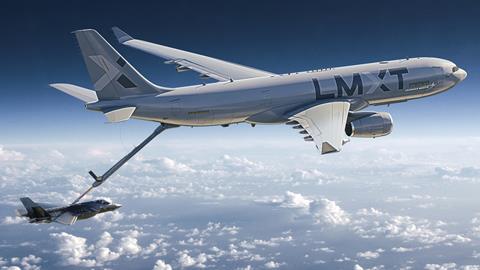 However, it is now uncertain if a KC-Y acquisition will happen, with the service's NGAS target date having been shifted into the early 2030s. Revealed by air force secretary Frank Kendall, the accelerated goal calls into question whether the service needs an entirely new aircraft to bridge the tanker gap.
"We've fundamentally changed our tanker acquisition strategy," Kendall said during congressional hearings. "We need to move to a next-generation tanking capability that is resilient enough to survive against a pacing challenge."
In particular, Kendall stressed the service's desire to move away from acquiring commercial aircraft-derivative tankers and instead develop purpose-built military assets.
As a result, he and other USAF leaders are now leaning toward the acquisition of additional KC-46As to fulfill the bridge requirement, rather than committing to a KC-Y process. If confirmed, such a strategy could ultimately result in an additional 75 KC-46A orders for Boeing.
Unsurprisingly, Lockheed and Airbus want to see a competitive process if the USAF keeps to its recently-revised plan.
"I think the US Air Force has proven to itself over and over again that there's nothing better than competition to drive the best value in all of their weapons systems," Gallogly says. "Their aspirational goal is that NGAS be operational by 2035 – we believe that's a very, very aggressive target for a full developmental programme."
RAPID SCHEDULE
Speaking at the Paris air show in mid-June, Airbus's head of military air systems, Jean-Brice Dumont, also highlighted the challenge that the USAF faces in driving such a rapid schedule.
"The current [KC-46A] order to Boeing ends in 2029 [and] NGAS wouldn't enter service until the middle of next decade at the earliest," he says, noting that the process also depends on the final contents of the US defence budget for fiscal year 2024-2025.
"There is for the US Air Force the need to recapitalise steadily," he says. "There is quite a bunch of aircraft that will have to be delivered between 2030 and 2035-plus. The need is to start delivering by 2030, and Lockheed and us, we are working to meet that need."
Executives from the LMXT partners met with USAF officials during the Paris show to discuss the service's KC-135 recapitalisation priorities.
"The concept of 'bridge' is no longer in the [USAF's] vocabulary," Dumont notes. "We need a requirement, so that we know what we have to deliver. We need to prepare the [LMXT] aircraft, to know the configuration.
"Now it's a lot about the requirements, which will be probably different to the requirement of the current aircraft," he says. "They need to study their concept and then go and meet the development need, which might lead to a family of tankers.
"Whether you go for stealth or potentially stealth/unmanned going into contested areas, it needs to be refuelled. There is a question of platform, there is a question of refuelling technology," he says.
"What we at Airbus are after is to be at the forefront of refuelling technology."
Dumont adds that the operational A330 MRTT has "the best fuel-offload and range at the moment, and the most advanced refuelling system, which we believe puts us in the best position".
As of early June, there were 56 A330 MRTTs in service around the world, with an additional 12 on order. The model is currently operated by Australia, France, Saudi Arabia, Singapore, South Korea, the United Arab Emirates and the UK, and by a consortium of NATO and Partnership for Peace nations, and is on order for Canada. Brazil and Spain also will operate MRTTs converted from secondhand commercial A330s.
Boeing Defense, Space & Security (BDS) chief executive Ted Colbert argues against cutting off KC-46A production in order to acquire a different aircraft prior to NGAS, noting that the USAF has invested heavily to develop the Pegasus.
"Pivoting from that, to me would not be the best interest of the Department of Defense or Congress," he tells FlightGlobal. "It frankly would be a waste of time and money."
After numerous engineering challenges and billions of dollars in penalties charged to Boeing for delays and technical shortcomings, the USAF last year cleared its KC-46A fleet for full operational duty worldwide.
PRODUCTION CAPACITY
Colbert describes the Pegasus as a "product that works today", and notes that Boeing is nearing completion of the jet's re-designed RVS 2.0 remote vision system – one of the major sources of its past penalty charges. Unlike its rival, the company also has already gone through the challenge of building US production capacity for the tanker, he adds.
"The platform's doing amazingly well," Dan Gillian, BDS vice-president and general manager mobility, surveillance and bombers, tells FlightGlobal. "It is doing great things for the warfighter today. It's a very flexible platform, with a lot of capability – more gas from shorter runways than the KC-135."
Boeing has to date delivered 69 KC-46As to the USAF, and two examples to Japan, from a four-unit acquisition for Tokyo.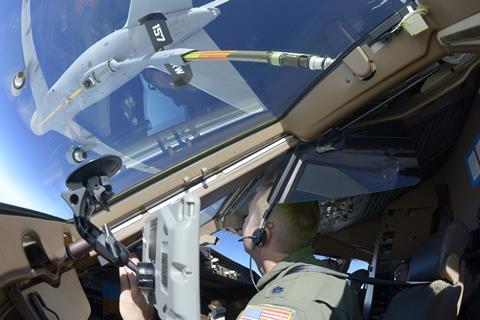 "You'll continue to see the KC-46 expand its mission set," Gillian says, noting that the company is under contract to deliver a Block 1 communications enhancement to the USAF. "Aerial refuelling of course, but the ability to participate in the network for the air force, bringing value, is significant.
"It's the only purpose-built, combat-hardened tanker in the world today," he adds.
With almost 40% of the KC-X programme's 179 Pegasus tankers now delivered, he notes: "We're really excited about where we're at with the production system. We worked through our Daher [centre fuel tank paint adhesion] issue from earlier in the year, and we're just about at the back end of that," he adds, referring to a supply chain flaw that temporarily disrupted output of the 767 for the USAF and commercial freighter customers.
"The US Air Force is talking about what happens next. KC-46 is an amazing platform, and I think it is the right answer to help provide the air refuelling capacity and capability for the air force for a long time."
Boeing also sees further sales potential for the type, four examples of which also have already been ordered by Israel. "So long as there's demand we'll produce those aircraft for KC-46," Gillian says. "I think we're at the beginning of that demand."
While the USAF has yet to formalise its NGAS strategy, Gillian notes that Boeing is working with the service to explore potential future options.
"What the NGAS platform needs to be is not yet decided, and that's what we're excited to be working with the air force on," he says. "But that answer will shape over the coming years.
"Getting KC-46s out there in the quantities that we're going to deliver will help inform what that next thing is," he adds.
Meanwhile, the USAF continues to weigh the potential for NGAS to employ a transformational architecture.
RIGHT BLEND?
"We are spending some time looking at blended wing-body [BWB] technologies, because we think this is the 21st Century air force for large aircraft," Roberto Guerrero, deputy assistant secretary of the air force for operational energy, said during the Royal Air Force/Air Power Association Global Air & Space Chiefs conference in London on 12 July.
"We are looking at a couple of designs and we are going to downselect from those to one," he says. "We see benefits in both air refuelling at range, as well as cargo."
Guerrero says modelling suggests that a BWB-configuration tanker will deliver 30% better fuel economy than the KC-46A when using the same engines. This would equate to a 95% increase in fuel offload capacity at an operating radius of 2,500nm (4,620km), and a 97% increase in radius at a 22,600kg (50,000lb) fuel offload, he says.
In practice, this means a single tanker would be able to support seven Lockheed F-35 stealth fighters at a 4,000nm operating radius, instead of one. This "would be a big capability increase for us", he notes.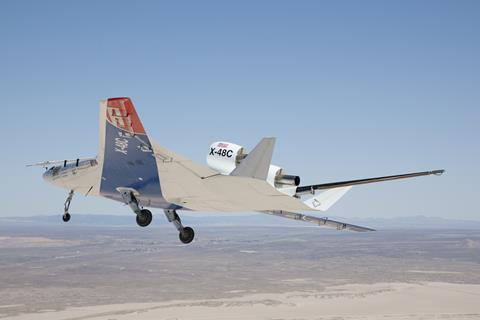 Dumont is not convinced about the potential for a clean-sheet BWB design to be developed within the USAF's stated timeframe for NGAS.
"You need the big 'gas station in the air'," he says. "We don't see how you could have a blended wing-body [aircraft] of that size in the near- to mid-term." Airbus is exploring a BWB concept as part of its commercial ZEROe research, but for today he describes such a platform as "a high-technology ambition".
Gillian, meanwhile, says a BWB configuration – the subject of previous technology demonstrations involving Boeing, such as NASA's sub-scale X-48C, last flown a decade ago – offers some benefits. However, he cautions: "Sometimes you can start with an answer and work your way towards a solution. We want to make sure we get the threat environment understood to drive what that [solution] needs to be."
Boeing in early July announced plans to enhance the self-protection capability of large military aircraft.
Working with its Aurora Flight Sciences subsidiary, the airframer is "investing in further developing advanced defensive systems and countermeasures for application on next-generation refuelling and mobility platforms, including the KC-46A Pegasus tanker."
Activities to be conducted at Aurora's Columbus site in Mississippi will include "the research and conceptual design of composite components to enhance operational survivability", Boeing says.
"We continue to evolve the KC-46A and other next-generation refuelling and mobility platforms to further enhance mission versatility and survivability," says Justin Hatcher, its advanced technology director for the Pegasus.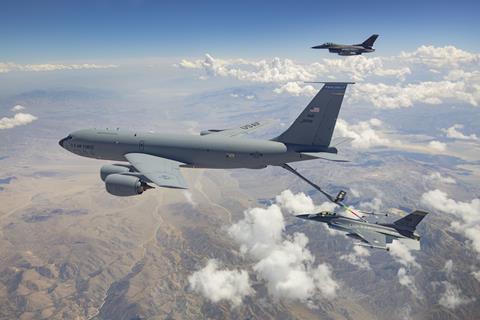 Cirium fleets data records the USAF as still having 378 active-duty KC-135s in its fleet, with the oldest examples having been delivered in 1957. Once the service settles on its strategy to fully replace the veteran tanker, it is certain to fuel the rivalry between Boeing and its Lockheed/Airbus competitor.
L3Harris/Embraer team gets ready for Agile Tanker demonstration
With the US Air Force (USAF) advancing its agile combat employment (ACE) ambitions with an eye to countering future near-peer foes, its likely need to operate forward-deployed tankers has not gone unnoticed.
In March, US prime contractor L3Harris responded to a USAF request for information by offering a proposed development of Embraer's in-service KC-390 Millennium.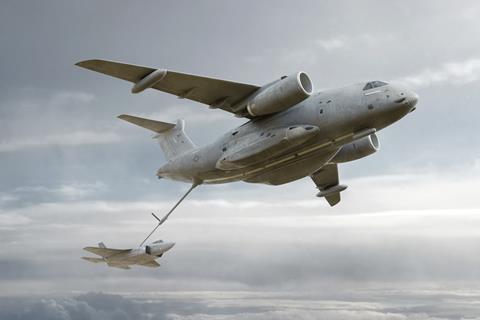 The result of an industrial partnership announced in September 2022, the so-called Agile Tanker would support operations from dispersed and potentially austere landing strips – such as those found on islands throughout the Asia-Pacific region. Under the ACE construct, combat assets and personnel will remain mobile and capable of rapid relocation, protecting them against the threat of long-range missiles.
"We believe we will add additional capabilities to the US Air Force, by having more tactical tankers in a strategic position," Embraer Defense & Security chief executive Bosco da Costa Junior said ahead of the Paris air show in June. The airframer has so far delivered six KC-390s to the Brazilian air force from a 19-unit order, and has won deals to supply two examples to Hungary and five each to the Netherlands and Portugal.
DEVELOPMENT PATH
"We are going to do demonstrations with the US Air Force initially with the existing hose and drogue [under-wing pod] solution, but we are working on a boom capability [in order] for that aircraft to be compatible with US Air Force expectations," Tara Martin, L3Harris's senior director, business development, told FlightGlobal at the Royal International Air Tattoo in the UK on 15 July. "It's important that the air force sees this aircraft and its capability first," she adds.
"The KC-390 is able to operate on much shorter runways than current US tankers, and unimproved runways," Martin says. "It gives you a lot more basing options, particularly as you look in the Indo-Pacific theatre and the island chains out there." This means the International Aero Engines V2500-powered type can "be closer to the potential action, as well as less predictable", she notes.
Images released by the companies depict the Agile Tanker as equipped with a lightweight refuelling boom installed beneath its aft fuselage, just forward of the rear cargo ramp.
While a boom development marks a new technology activity for L3Harris, Martin notes: "We look to be a trusted disrupter in the industry. We do a lot of very challenging projects. We have very strong aero and structural engineering [skills]."
Other enhancements are to include US-specific systems and "resilient communications supporting JADC2 [joint all domain command and control] requirements", L3Harris says. It would conduct aircraft modification and mission equipment installation work at its facility in Waco, Texas.
The USAF already operates Lockheed Martin C-130J-variant tactical transports as combat tankers, but she notes that the KC-390 was developed from the outset to perform both airlift and in-flight refuelling duties, and will have a greater fuel offload than a Hercules in Agile Tanker guise.
"It also from the start has been designed with interconnectivity with other platforms and an open architecture and connectivity," Martin notes.
"By combining L3Harris' experience as an aircraft missionisation prime with Embraer's state-of-the-art KC-390 Millennium platform, both companies are ready to provide the next generation of tanker solutions for the Department of Defense and the US Air Force," the US prime said when their collaboration was announced.
"Things are moving well, and we have the right partner," Embraer chief executive Francisco Gomes Neto told FlightGlobal earlier this year. "If we succeed to sell a reasonable volume to the USAF, we would consider to do some assembly and production in the US, together with L3."