Argentina seems set to acquire eight Leonardo Helicopters AW109s to support its fleet of naval patrol ships.
Defence minister Jorge Taiana signed a letter of intent with the Italian manufacturer on 25 September during an official visit to Italy that included a tour of Leonardo's manufacturing facilities. The agreement covers eight of the light twin-engined rotorcraft.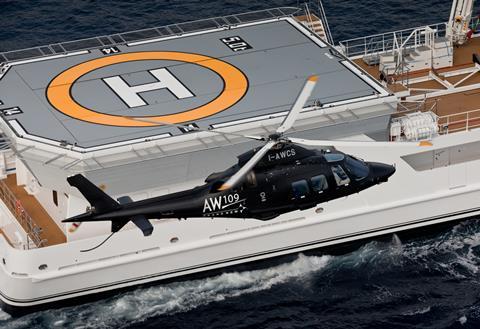 "In Argentina, our oceanic patrol boats need to have light helicopters, which can enter the hangars of [offshore patrol] ships," Taiana says. "We are convinced that Leonardo is the right company [from which] to acquire these helicopters."
Buenos Aires says the new helicopters will be used to expand the "control and surveillance capabilities of maritime spaces" within its national jurisdiction, particularly the country's offshore exclusive economic zone.
The AW109 is currently in service with numerous countries, including Albania, Cambodia, Greece, Angola, New Zealand and others. The Argentinian navy currently operates four aged Sikorsky SH-3 anti-submarine helicopters, according to Cirium data.
The pending sale of defence equipment to Argentina by an Italian company is notable.
Argentina's options for military hardware have been limited by arms-import restrictions imposed by the UK government following the 1982 Falklands War.
Diplomatic pressure from London has previously blocked deals involving American or European aircraft, including replacement Dassault Mirage fighter jets, Swedish Saab Gripens, Israel Aircraft Industries Kfirs and Korea Aerospace Industries FA-50 light fighters.
Numerous western aircraft incorporate UK-sourced components, such as Martin-Baker ejection seats for fighter jets.
However, the UK government in 2018 slightly softened its stance on the sale of weapons to its former South Atlantic foe, potentially paving the way for its NATO allies to conduct arms sales.
"Our general position is that we will continue to refuse licences for export and trade of goods judged to enhance Argentine military capability," the UK foreign office said at the time. "However, where like-for-like equipment is no longer available, we may grant licences where we judge they are not detrimental to the UK's defence and security interests."
In August, US weapons export regulators approved the third-party transfer of American-made Lockheed Martin F-16s from Denmark to Argentina – although Washington is not directly involved in discussions between those countries.
The Danish defence ministry says no decision has yet been made about an F-16 sale to Argentina.
"The discussions about the future of the Danish F-16 combat aircraft are ongoing," the Danish ministry tells FlightGlobal. "The F-16 combat aircraft will be decommissioned over the coming years."

Ryan Finnerty is the Americas defence reporter for FlightGlobal.com and Flight International magazine, covering military aviation and the defence industry. He is a former United States Army officer and previously reported for America's National Public Radio system in New York and Hawaii covering energy, economics and military affairs.
View full Profile