Arms regulators in Washington have approved the transfer of US-made Lockheed Martin F-16As from Denmark to Argentina.
The US Department of State said on 11 October it delivered a formal letter to Argentinian ambassador Jorge Arguello saying Washington signed off on the deal, which reportedly covers 24 of the multi-role fighters.
"The transfer reaffirms our close defence ties and steadfast support for Argentina's air force modernisation efforts," the state department says.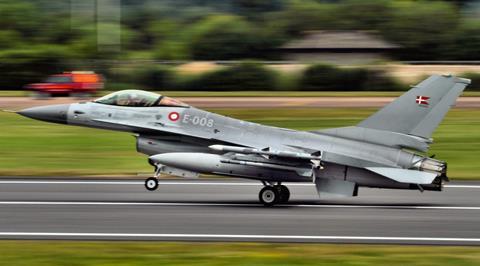 The US diplomatic agency would not immediately comment about the number of aircraft included in the deal, nor provide details about the final expected price, referring all inquires to Denmark.
However, a state department official speaking on the condition of anonymity on 12 October said Washington "strongly supports the third-party transfer of F-16s from Denmark to Argentina", with the US government having been working for more than year to "address obstacles and ensure this deal can go forward".
Without providing specifics, the official says it is standard for such Foreign Military Sales packages to include training, spare parts and other technical support for the receiving country.
"The F-16 is a proven, reliable platform that would allow for improved regular training and exercises to increase interoperability between the Argentine air force, its neighbours, and the United States," a state department official involved in the approval process tells FlightGlobal.
Additional details are emerging through local media outlets in Argentina.
Citing US deputy assistant secretary of state Mira Resnick, Argentine newspaper La Nacion is reporting the deal between Buenos Aires and Copenhagen will cover 24 of the used F-16s, equipped with air-to-air missiles and paid for with a $40 million financing package.
Washington's approval of the deal comes as the USA seeks to counter Chinese influence in South America.
Argentina, which has been restricted from purchasing Western-made military hardware since the 1982 Falklands War with the UK, is considering acquiring single-engined JF-17 fighters – a joint production of China's Chengdu Aircraft Corporation and the Pakistan Aeronautical Complex.
Buenos Aires has for years sought replacements for the 16 Dassault Mirage III fighters it retired in 2015.
Diplomatic pressure from London has previously blocked any deal involving American or European aircraft, including replacement Mirages, Swedish Saab Gripens, Israel Aircraft Industries Kfirs and Korea Aerospace Industries FA-50 light fighters.
Numerous western aircraft have UK-sourced components, such Martin-Baker ejection seats. However, F-16s use the US-made Collins Aerospace ACES family of ejection seats, skirting the UK's veto power.
Resnik, in 11 October statements to La Nacion, confirmed no UK approval is required.
"We work very hard to make sure there are no obstacles to the transfer," she says, adding that the decision to move forward now depends on the Argentine government.
Previous blocking of Western arms sales to Argentina created an opening for China, which Washington is now scrambling to fill.
A source within the Biden Administration, who in August spoke with FlightGlobal on the condition of anonymity, confirmed Washington planned to approve the transfer from Denmark to Argentina of an unspecified number of both F-16s and Lockheed P-3 Orion anti-submarine warfare turboprops.
The Royal Danish Air Force (RDAF) currently operates 33 F-16A fighters and 10 two-seat B-model trainers, according to Cirium. Copenhagen is in the process of replacing the ageing fourth-generation fighters with Lockheed F-35A fifth-generation fighters.
Denmark plans to acquire 27 F-35s, according to Lockheed, and the first four RDAF F-35s arrived in the Scandinavian country in September.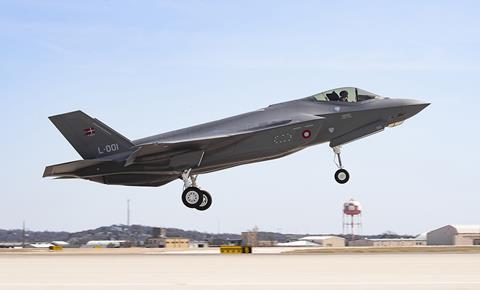 The Danish defence ministry tells FlightGlobal that no decision has been made regarding a sale to Argentina.
"The discussions about the future of the Danish F-16 combat aircraft are still ongoing, the ministry says. "The F-16 combat aircraft will be decommissioned over the coming years as F-35s are being delivered to Denmark."
The situation is further complicated by Denmark's existing commitment to provide some of its F-16s to Ukraine. Copenhagen in August said it would provide the Ukrainian air force with 19 of the single-engined jets.
The USA has agreed to such a transfer in principle and is currently involved in training Kyiv's pilots to fly F-16s.
How Copenhagen plans to divide its mix of 43 F-16s between Argentina and Ukraine remains unclear.
The defence ministry confirmed to FlightGlobal on 14 October that the allocation for Ukraine remains at the previously stated level.
"The Danish government has recently decided to donate 19 of its F-16s to Ukraine", Copenhagen says, "but no decision has been made yet regarding the remaining aircraft".
Danish defence minister Troels Lund Poulsen on 11 October said Denmark remains committed to "swiftly establishing a Ukrainian F-16 fighter plane capacity".
The USA, Denmark and the Netherlands are leading what the Danish defence ministry calls an "air force coalition" that will initially focus on F-16 training and transfers, but will subsequently address "the necessary elements of building a full-scale Ukrainian air force".
US defence secretary Lloyd Austin confirmed his country's support for that effort on 11 October. The Netherlands has previously committed to supplying Ukraine with up to 42 F-16s.
Updated 15 October to include comment from the Danish defence ministry