The defenders of Ukraine are set to receive a cache of powerful new weapons, including attack helicopters from the Czech Republic.
The new round of military assistance was announced on 23 May by two of the USA's top defence officials: Secretary of Defense Lloyd Austin and General Mark Milley, its senior-most uniformed officer.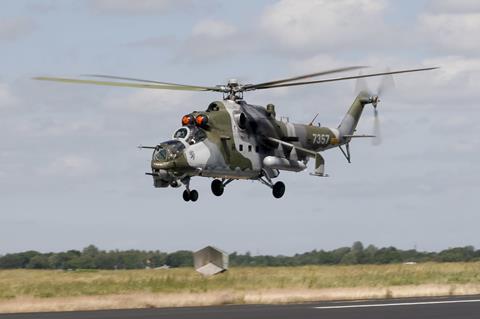 Earlier in the day, the two men hosted a virtual meeting of their peers to discuss continued assistance to Ukraine. Defence chiefs from 47 countries were in attendance at the second meeting of the coalition, which has been dubbed the Ukraine contact group.
Austin thanked several European countries for arms donations pledged to Ukraine during the meeting, including the Greece, Norway, Poland and the UK. But he singled out two others for particular praise.
"I'm especially grateful to Denmark, which announced today that it will provide a Harpoon launcher and missiles to help Ukraine defend its coast," says Austin. "I'd also like to thank the Czech Republic for its substantial support, including a recent donation of attack helicopters, tanks and rocket systems."
It was not immediately clear which aircraft, or how many, the Czechs are sending to Ukraine. According to the FlightGlobal 2022 World Air Forces directory, the Czech air force operates 15 Soviet-era Mil Mi-24s and 19 Mi-17-series rotorcraft, and has ordered four Bell AH-1Zs and eight UH-1Ys to replace them.
Throughout the now three-month Russian invasion of Ukraine, Western leaders organising aid to the Ukrainian armed forces have shown a preference for sending Soviet Bloc equipment, such as RAC MiG fighters and Almaz-Antey S-300 air defence systems. The bulk of equipment operated by Ukrainian troops is Soviet-era in origin and thus requires little-to-no training time upon its receipt.
In contrast, it may require substantial training on Western jets and helicopters before Ukrainian operators can make effective use of them. That makes Prague's Mi-24s the likely candidate for the attack helicopters heading to Ukraine.
Some Eastern European countries, including Poland, have proposed sending their stocks of Soviet-era aircraft, tanks and missiles to Ukraine, in return for those systems being replaced by modern US-made equivalents.
The USA itself has provide Ukraine with some $4 billion worth of equipment from its own stocks, including Mi-17s previously destined for the now-defunct Afghan air force.
The international effort to supply Ukraine's armed forces with materiel appears to gaining momentum as those forces see increasing success on the battlefield.
"The momentum of donations and deliveries has been outstanding," Austin notes. "After today's discussions I'm pleased to report that we're intensifying our efforts, and moving forward, we'll continue to deepen our coordination and cooperation so that Ukraine can sustain and strengthen its battlefield operations."
Milley notes that the number of American troops in and around Europe now tops 100,000 – a 30% increase compared to levels seen before Russia's invasion of Ukraine.
The Ukraine contact group plans to meet again in June.