Israel has become the first export customer for the Sikorsky CH-53K, having selected the heavy-lift helicopter as a replacement for its fleet of 22 elderly CH-53D 'Yasur' rotorcraft, which have been in service since the 1960s.
Tel Aviv had been choosing between the Boeing CH-47 Chinook and the King Stallion – which is being developed for US Marine Corps – for the requirement.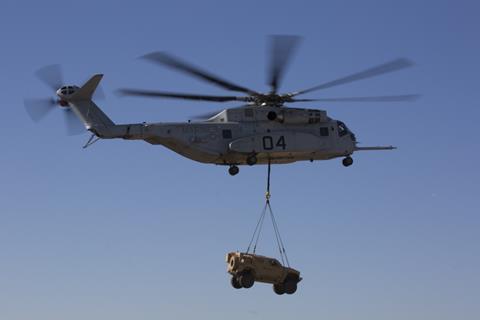 Announcing the selection, defence minister Benny Gantz said the ministry accepted the recommendations presented to it by the Israel Defence Force (IDF), which had evaluated and flown both types under consideration.
"It is essential to the IDF's ability to carry out a wide range of operational activities. The new helicopter is adapted to the [Israeli air force's] operational requirements and to the challenges of the changing battlefield," says Gantz.
No details on delivery timelines or quantities to be procured were revealed, however.
Development work on the CH-53K is continuing, with the helicopter expected to enter into the Initial Operational Test and Evaluation phase this summer. Full operational capability is expected in 2030.
Sikorsky has so far delivered four examples to the USMC, with negotiations under way for an additional 18 units under Lot 5 and 6 production.
Germany has also evaluated the CH-53K to replace its CH-53G fleet, with the King Stallion again facing competition from the Chinook.