The Pentagon has expanded a private contract for aeromedical and cargo services in the Philippines.
US Transportation Command (TRANSCOM), which manages Washington's global military logistics operations, on 24 March issued a contract modification worth $14.7 million to Erickson Helicopters – a private provider of medical evacuation, cargo transport and MRO services.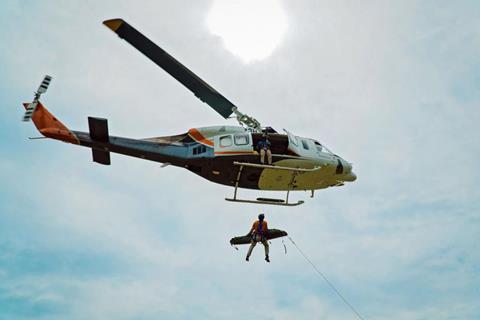 The total value of Erickson's TRANSCOM contract in the Philippines is now just under $137 million.
The Portland, Oregon-based firm has been under contract with TRANSCOM in the Philippines since 2020. Erickson operates two Bell 214ST medium-lift helicopters and one CASA C212 small fixed-wing transport from Edwin Andrews air base in Zamboanga.
The facility is strategically located on the southerly island of Mindanao – the archipelago's second-largest island and the site of a bloody, years long counterinsurgency campaign waged by the Philippine military, backed by American special operations forces.
"The US military, operating from [Edwin Andrews] requires fixed-wing short take-off and landing and helicopter support for personnel in [casualty evacuation] and heavy-lift cargo situations," Erickson says.
The US military often contracts out support services, including casualty evacuation, in remote areas where it has combat troops operating without the back-up of a large logistics footprint – as was the case in Iraq and Afghanistan. The Pentagon maintains several such contracts covering the continent of Africa, where a small number of personnel are widely dispersed.
The approach also provides political cover by avoiding larger numbers of active duty US personnel, on paper.
Erickson notes its 412STs and C212 are "highly capable in the hot and humid conditions of the dense jungle and mountainous regions".
"Each aircraft excels in a wide variety of internal and external configurations including cargo movement, sling load, passenger transport, as well as the specialised medical and rescue equipment needed for medevac flights," the company says.
Erickson is under contract as part of the TRASNCOM Worldwide Airlift Services Program (WASP) 135. WASP provides aircrew, ground personnel, supplies and both fixed- and rotary-wing aircraft for various military aviation missions – including passenger and cargo, medical evacuation, mail delivery and helicopter sling load operations.
Sixteen commercial aviation firms are listed on TRANSCOM's November 2022 WASP procurement forecast.