General Atomics Aeronautical Systems (GA-ASI) has conducted a live/virtual unmanned air vehicle (UAV) swarm test against a simulated air-to-air opponent.
The work involved a company-owned Avenger UAV teamed with five synthetic Avengers, says the company.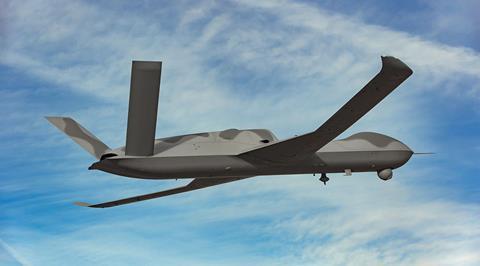 During the 28 January experiment over southern California, the Avenger and its five simulated companions conducted a search mission, and detected a simulated adversary that entered the search area.
For the engagement, the live/virtual swarm used a simulated IRST (infrared search and track) network, as well as the US government's Collaborative Operations in Denied Environment – or CODE – autonomy engine.
"Once the simulated adversary entered the designated search area, the team of Avengers would decide, utilising an [artificial intelligence/machine learning] algorithm, which aircraft would autonomously break from the search-loiter and perform complex behaviours to show closed loop, air-to-air tactics," says the company.
"The flight demonstrated GA-ASI's unique ability to deploy autonomy using a blend of simulated threats, real-world sensors, and live aircraft," adds Michael Atwood, senior director of advanced programmes.
"GA-ASI's robust autonomy pipeline provided seamless digital environments, UAV digital twins and machine learning to validate unmanned aircraft closing complex kill chains. This framework allows the [Department of Defence] to rapidly transition next-generation, operationally relevant air-to-air warfare technology from the lab to the battlespace."
Collaboration among unmanned assets is seen as essential for operations in denied airspace, particularly as the USA contemplates potential conflicts with peer competitors such as China and Russia.