Home carrier Etihad Airways has conducted the first commercial flight out of Abu Dhabi International airport's long-awaited new Terminal A.
Building of the facility – known during its construction as the Midfield Terminal, which will enlarge capacity at the Abu Dhabi airport to 45 million passengers – was initially approved in 2012 with an opening envisaged in 2017.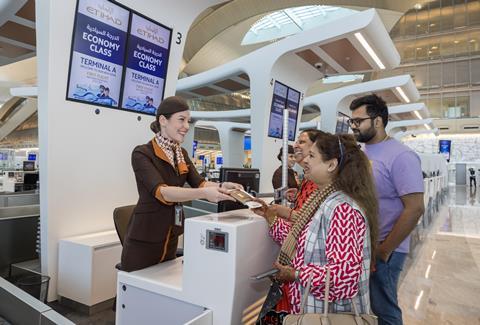 That expansion was in line with the development of Abu Dhabi as a travel hub, under which Etihad Airways had embarked on an ambitious equity-alliance growth strategy. However, the unwinding of that model and the subsequent consolidation period at Etihad, followed by the impact of the pandemic, saw passenger levels through Abu Dhabi fall sharply.
But earlier this year the airport announced that the new terminal would open in November and Etihad today operated the first commercial flight – an outbound service to New Delhi – from the new facility.
Following the landmark first commercial flight, Etihad will begin transitioning flights to the new terminal from 9 November, with the aim of operating exclusively out of Terminal A from 14 November.
Abu Dhabi Airports managing director and interim chief executive Elena Sorlini says: "Terminal A brings a significant increase to capacity, and delivers state-of-the-art facilities to both airlines and passengers. We look forward to welcoming more passengers throughout November as we continue to increase the number of flights departing and arriving at Terminal A."
Etihad chief executive Antonoaldo Neves says: "This is a pivotal and exciting moment in Etihad's history. As we begin to celebrate our 20th anniversary in November, we are ready for the next growth chapter in our new home."