Ryanair will exit the coronavirus crisis leaner, more competitive and ready for expansion, group chief executive Michael O'Leary has vowed.
The low-cost carrier is using the crisis to "rapidly restructure our cost base", he explained during a 2 November half-year results call. All of the major expense items – wages, fuel, aircraft costs and airport costs – will fall, Ryanair expects.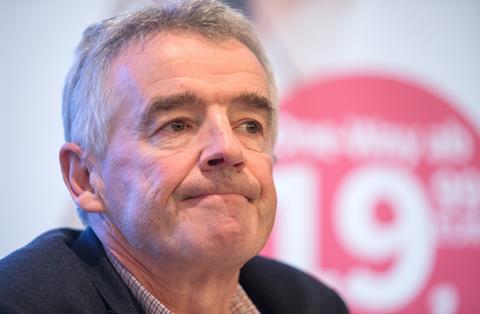 Staff numbers have been cut and salaries reduced, and the carrier is negotiations with airports across Europe to secure the lowest charges. The arrival of the Boeing 737 Max – 30 of which are due for delivery in the first half of 2021 – will further reduce fuel bills, already down on the back of weaker crude values.
This will allow the group to "fund very aggressive pricing strategies" when the recovery period arrives, says O'Leary. "We will have a lower cost base, and will capitalise on the low-cost opportunities which will inevitably emerge."
Ryanair has so far steered a middle ground through the crisis, compared with low-cost rivals, being less aggressive than Wizz Air, which has rapidly expanded into new markets, yet punchier that EasyJet, which has recoiled to focus on key routes while sharply pulling back on capacity.
O'Leary gives clear indications that as the crisis develops the carrier is switching its focus more towards the former's strategy, as it readies for a rapid bounceback of demand once the health situation allows.
He notes expectations of "huge pent-up demand for short-haul travel", that "will be strong and will be immediate" when restrictions are eased.
"Our cost per passenger will be meaningfully lower than before – lower staff costs, and I think lower yields," he says. "There will be a very strong summer and many airlines will not be able to restore capacity [as quickly as Ryanair]."
This is the logic behind the carrier's decision to maintain as much as possible of its route network, as this negates the need for costly and time-consuming processes to restore pilots and aircraft to the skies when the market reopens.
Ryanair has held back from announcing a flurry of new routes already, O'Leary explains, because negotiations with airports are ongoing.
Airline bosses across Europe have expressed concern that demand could take several years to return to 2019's levels, but O'Leary characterises this as "bullshit", citing demand for travel from people "who have been locked up for the last nine to 12 months".
Rather, it is pricing that O'Leary believes will take longer to recover, as airlines and the wider travel industry lure customers back with heavily discounted deals.
Although this threatens profitability across the sector, it presents opportunities for the lowest-cost producer, a title claimed by Wizz Air and Ryanair alike.
"We keep hearing from [Jozsef] Varadi that he's got the lowest cost price in the industry, yet every time he adds an aircraft the gap gets bigger and bigger", argues O'Leary, referencing the competitor's Airbus A320 fleet.
This could be an indicator that Ryanair is preparing for a bitter market-share battle with its central European competitor, assuming that markets return to some normality in 2021.
It may also indicate a change in tack for Ryanair from its current strategy of holding firm on pricing where possible – although O'Leary concedes that fares are considerably lower than last year.
The airline been able to hold the line in some cases because passengers tend to book close to the date of departure, indicating a need to fly and giving Ryanair power over pricing.
It managed to hit 70% load factors from July to October, "and no other airline has achieved that", O'Leary asserts.