Launching at the Farnborough International Airshow in July, the Aerospace Global Forum (AGF) is a revolutionary global platform that aims to champion change and drive immediate action, accelerating transition to the new, net-zero economy.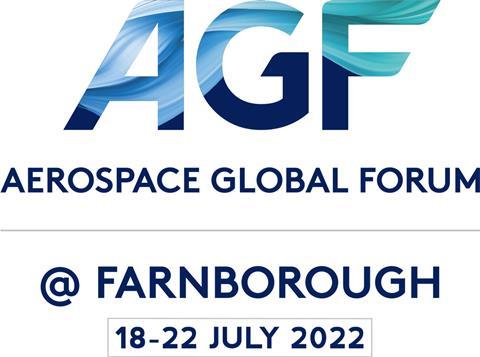 Developed by Farnborough International, AGF will bring global leaders together, across all industries, sectors, and geographies, for the very first time to drive conversation and interrogate issues to change the world for the better through an aerospace lens.
Taking place in tandem with the world-famous Farnborough International Airshow, 18-22 July 2022, AGF will set the agenda for industry in the years ahead, discussing the new digital workforce and future leaders of the aerospace and defence industry, and preparing organisations for the new skills needed in an artificial intelligence (AI)-fuelled world. Topics include transitioning to net zero, sustainability across the defence sector, smart manufacturing, and hyper-scaling within the industry to accelerate change.
The world-class programme
The future-focused forum will provide pioneers of change with an immersive platform to connect, collaborate, engage and learn through a diverse five-day programme of inspiring thought leaders and impactful discussions. Leaders from the finance and energy sectors, governments, climate consultancies, start-ups, OEMs and their supply chains will gather to debate and energise collaboration.
The confirmed world-class speakers include:
· Dr Charles Woodburn, chief executive, BAE Systems
· Warren East, chief executive, Rolls-Royce
· Willie Walsh, chief executive, International Air Transport Association
· Sir Stephen Hillier, chair, Civil Aviation Authority
· Kerissa Khan, president-elect, Royal Aeronautical Society
· Roger Camrass, research director, CIONET
Working with world-leading consultancies and networks, such as KPMG, CIONET, Deloitte, McKinsey & Partners, and World Economic Forum, as well as US government officials, UK government departments, ADS and other industry associations, AGF will drive cross-sector collaboration in order to achieve deep, long-term reductions in greenhouse gas emissions, and accelerate progress towards a net zero future. The aerospace industry plays a vital role in the global decarbonisation transformation.
Gareth Rogers, chief executive of Farnborough International, says: "The 2022 Aerospace Global Forum will be the catalyst to create transformation and accelerate tangible change together through bringing the aerospace world together and tackling the challenges we are facing as an industry and the world.
"Climate change is the largest challenge to affect the world and we must react to it as an industry with the support of governments, academics, regulators and innovators. A diverse platform is needed to host these future-altering discussions, leading us to harness our pioneering spirit to develop and curate the Aerospace Global Forum. I urge industry leaders to join us in driving change and mapping out the next steps to achieve a net zero economy."
Kevin Craven, chief executive of ADS, adds: "The Aerospace Global Forum provides a real opportunity for the leaders of industry to come together with academics, government and innovators to consider the existential challenges that the aviation industry are facing both now and in the future. We need to understand what action can be taken within the sector to overcome these challenges and use the AGF to drive real action and change to ensure the aviation industry can adapt for the future."
AGF isn't just a five-day platform. The thought leadership programme has been designed to drive change past July 2022 and create a springboard for a suite of spin-off forums and conferences in aviation communities around the world, throughout the year. Working with like-minded accredited partners, the programme has been developed to produce actionable outcomes and strategies that will hold leading industry organisations to be held accountable in progress moving forward.
How to book:
AGF Daily Advance Bundles start from £293 + VAT including daily access to the Farnborough International Airshow, as well as the AGF headline panel sessions and Q&A and AGF unpack sessions, networking opportunities and industry insights, reports and master classes. Limited seats are available.
For more information on AGF and to register for your pass, visit: aerospaceglobalforum.com