GE Aerospace recently joined NASA and Boeing to unveil the paint scheme of its hybrid electric aircraft testbed for the Electrified Powertrain Flight Demonstration (EPFD) project. In coming years, the plane will take to the skies to test new hybrid electric propulsion systems in development for the future of commercial aviation.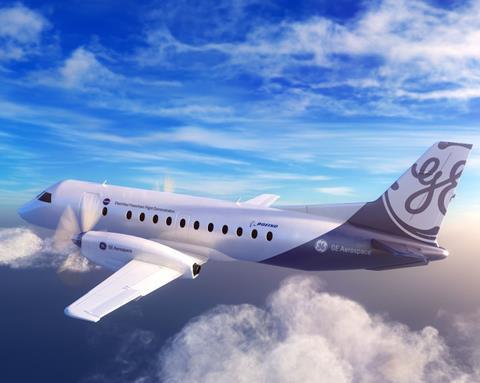 At July's EAA AirVenture air show in Oshkosh, Wisconsin, GE Aerospace debuted its new livery design for the aircraft testbed for NASA's Electrified Powertrain Flight Demonstration (EPFD) project, a landmark effort to help prove the feasibility of hybrid electric flight for commercial aviation.
For the hybrid electric test flights, GE Aerospace is partnering with Boeing and its subsidiary Aurora Flight Sciences using a modified Saab 340B aircraft powered by GE's CT7 engines.
Despite appearances, the hybrid electric testbed won't be an ordinary plane. GE Aerospace is developing an integrated, megawatt-class hybrid electric propulsion system for ground and flight tests in the middle of this decade. The aircraft pictured will be modified with the help of Aurora Flight Sciences to install the hybrid electric system in parallel with the traditional CT7 gas turbines to demonstrate an electric motor/generator, power conversion, energy management and other technologies.
The new livery, or paint scheme, of the aircraft features a pristine white fuselage bisected diagonally to cover the tail in a striking shade of atmosphere blue with the new GE Aerospace logo showcased on the rudder.
"GE Aerospace envisions a more electric future of flight," says Arjan Hegeman, general manager of advanced technology for GE Aerospace. "Our research collaborations with NASA continue to advance state-of-the-art propulsion systems with an important aim — to drive industry efforts to improve efficiency and reduce emissions compared to today's aircraft engines."
The plane's appearance at Oshkosh highlights GE Aerospace's long-standing commitment to the development of hybrid electric flight. The company took one of its first significant steps a decade ago, in 2013, when it opened its Electrical Power Integrated Systems Center (EPISCenter) with the University of Dayton to develop new electrical power generation systems for aircraft. Since then, it's made great strides through motor-driven propeller tests and simulated power transfers, which are crucial components. In fact, GE Aerospace just announced a $20 million investment in the EPISCenter to add a new test cell and additional equipment.
The EPFD project achieved a significant milestone last year. "In 2022, we had a hallmark test, the first and only of its kind, at the NASA NEAT facility," says Christine Andrews, hybrid electric systems leader at GE Aerospace. "This demonstrated a multi-kilovolt, megawatt-power-class power transfer at altitude, something that has never been done before or since."
The test done at NEAT, the NASA Electric Aircraft Testbed facility near Sandusky, Ohio, simulated altitudes of 45,000 feet. NEAT is currently the only facility capable of simulating high-electric and high-altitude conditions that's also large enough to fit an electric powertrain. Thanks to this one-of-a-kind facility, GE Aerospace and NASA could accurately test the feasibility of the power transfer.
"This proves that we are altitude ready," says Mohamed Ali, vice president for engineering at GE Aerospace. "Next is to prove that we are flight ready."
With aviation accounting for about 2.5% of global CO2 emissions, hybrid electric propulsion is seen by many as an essential part of reducing flight emissions.
"Just like hybrid and electric cars are changing the shape of the auto industry, GE Aerospace, NASA, and Boeing are taking that same concept to the skies. We will make the skies more electric, and with that we'll be able to move toward a more sustainable future," says Andrews.
This article originally appeared on GE Reports.