Back in the early 1990s, airlines were digital pacesetters, introducing computers that could "talk" to each other to manage reservations across the globe. Even international banking was not as early an adopter of pre-worldwide web communications technology. However, the industry's progress since then has been sluggish, with many carriers burdened with legacy "silo" systems that do not allow individual departments, such as technical and flight operations, to easily share data.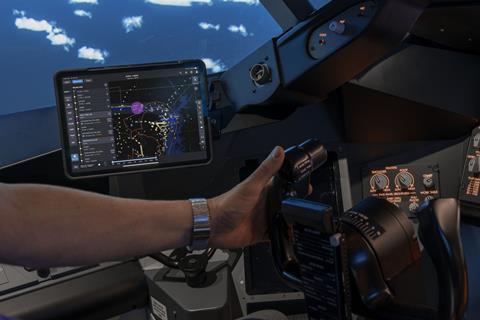 "Airlines missed a couple of waves of technological progress, and this has left many of them stuck in the past," believes Jens Schiefele, Director of Digital Aviation Research at Boeing Global Services' Frankfurt-based Digital Aviation Solutions (DAS) unit. The bumpy recovery from the pandemic has only served to highlight the dysfunction, with labour shortages and other disruptions heaping more stress on exhausted airline executives – not to mention long-suffering passengers.
There is good news, however. The latest disruptive technology tide is proving to be as momentous as the advent of the internet and smartphone. Products and services harnessing artificial intelligence (AI) and machine learning (ML) promise the sort of technology leaps airline managers might once have only dreamed of. "Five years ago, we saw the first chatbots appear on airline websites," says Schiefele. "Now AI and ML have become real, and the potential for the industry is incredible."
DAS's mission, Schiefele says, is to harness AI, machine learning and other "big data" capabilities to help airlines – as well as business aviation and military customers – streamline their operations and become more profitable. Some of these innovations might be straightforward, such as replacing the paper maps that are still prevalent in parts of business aviation with digital maps. Others involve swapping multiple software applications for integrated one-stop solutions.
DAS has its roots in Jeppesen, the aviation mapping specialist Boeing bought in 2000, and whose products are used by 80% of pilots. Jeppesen pioneered the electronic flight bag in 2012, easing the workload of flight crews and, at the same time, helping the environment by removing millions of kilograms of weight from cockpits over the years. Its FliteDeck Pro navigation app is currently on more than 350,000 mobile devices.
When Boeing set up its BGS division in 2017, one of its objectives was to become a digital leader, with DAS building on the reputation of Jeppesen to expand its product offering from the cockpit to the operations department, encompassing disciplines such as flight planning, flight scheduling, crew management, communication, and operations control. In January Brad Surak was lured from a successful software start-up to head the unit as Vice President of Digital Aviation Solutions.
Under Surak, BGS's DAS has a mission to "solve our customers' organizational issues" through technology. According to Schiefele, the team goes about this by "building a long list of pain points each airline has" and coming up with potential solutions. These can range from simple incremental improvements to complex solutions for "visionary airlines dreaming about flawless flight", he says. There are currently 45 projects in progress or under evaluation.
First from the blocks – Fleet Insight – addresses a crucial pain point: airlines' need to track the movement of aircraft in real time. The cloud-hosted product –offered under the Jeppesen brand – enables dispatchers and operations staff to keep abreast of changing conditions, such as weather delays or airport disruption, and use that early knowledge to mitigate impact on passengers. It combines what might have been available in multiple pieces of software into one application.
Information available on the Fleet Insight dashboard includes live and scheduled flight plan data, graphical weather displays, and NOTAM updates. Fleet Insight is also integrated with Jeppesen's NavData navigational data and more than 1,000 airport maps. A GANTT chart allows airline staff to see the entire fleet at a glance, and, in addition, it provides Global Aeronautical Distress and Safety System (GADSS)-compliant position reporting.
The product addresses a "gap in the market", says Nico Zimmer, Senior Manager Product Expansion. While legacy software provides some solutions, Flight Insight is unique in bundling them. "It's a case of having the data in front of you instead of looking left and right," he says. Another plus is ease of use. "It does everything in a smart and intuitive way. Other products can be cumbersome in terms of workflow, with three or four clicks to get the same result Flight Insight gives you with one."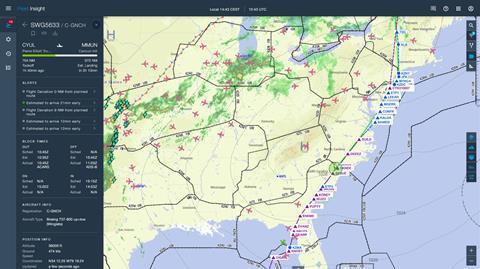 It is about more than simply making life easier for those looking at computer screens. "Flight Insight means decisions can be made that will make the operation more efficient, save fuel and improve convenience for passengers," says Zimmer. "Dispatchers will, for example, be able to advise crew to reduce speed to avoid a congested area of airspace, or to avoid avoid turbulence and bad weather. It's that ability to intervene in a situation much earlier."
To ensure DAS's 450-strong Frankfurt-based unit is innovative and nimble, Boeing has done away with traditional corporate structures. Working in a refurbished Jeppesen printing plant, "agile teams" of 10 people take complete responsibility for each product idea, from conception to execution. "The idea is not to fear failure," says Schiefele. "Not everything is going to work, and if it doesn't, we have a physical trash to dump projects – it's how we visualize things."
If it sounds a bit faddish, there is a very clear business rationale behind what Schiefele describes as this "fundamental culture shift" in the organization. "Boeing will typically take 15 years to bring an airplane to market. We are building niche products much quicker. We need to behave like a tech start-up," he says. "Ultimately, it improves our chances of making successful products. And that is what we need to inspire airlines."