When most people hear Shell Aviation, they think fuel supplier. Indeed, Shell fuel has been powering aircraft for generations, building over 90 years' experience in airport operations all around the world.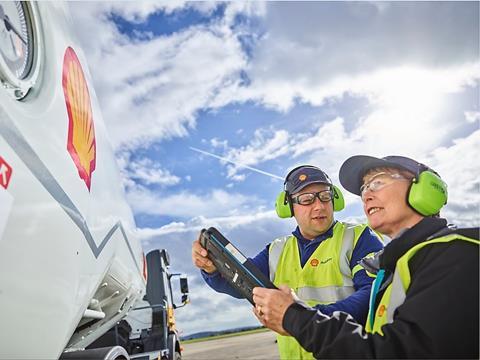 Now, technical experts from the aviation arm of one of the best-known energy brands also perform a vital service behind the scenes, providing training, support, and real-time advice to keep fuel users safe, profitable, and compliant. In the past, their tailored service has, for example, stopped aviation firms falling foul of the law, losing money, tarnishing their reputation…or worse.
Fuel is – almost literally – the lifeblood of aviation. The product pumped into airliners is the end of a long and complex supply chain that begins when crude oil leaves the ground. Every stage – the refinery process and transportation to how it is stored and handled at airports – is governed by a series of standards, guidelines, and protocols. Staying abreast of these, along with meticulous record-keeping, is essential. But few have the time or knowledge to do that independently.
Ashleigh McDougall, Head of Europe & South Africa at Shell Aviation, explains that Shell's offering covers several service areas including training and assurance plus on-the-spot technical and compliance advice, and is available as a standalone service or can be customised as part of a bundle with the purchase of fuel.
"Shell Aviation Technical Services' mission is to allow companies to run their businesses while our professionals manage the fine details of running a fuel operation," says McDougall.
Technical Services in action
When it comes to fuel, the smallest error or oversight can escalate into a crisis. Shell Aviation highlights two examples where it has come to the rescue. A customer bought fuel on the open market, only to discover the presence of fine particulate and soot was causing blockages in filters. Product quality experts from Shell Aviation Technical Services were on hand to provide guidance to mitigate the situation, helping to avoid a fuel shortage at one of the world's busiest airports.
In another instance, an aircraft that was refuelled at a major international hub encountered a problem mid-flight and returned safely. Initial checks revealed the presence of superabsorbent polymer, or SAP, in the fuel filtration system. Shell Aviation helped the airport fuel provider demonstrate the SAP did not originate from its fuelling operation at the last departure airport, something that would have led to serious loss of credibility with its airline customer and possibly even legal action.
Covering all the details
However, it is not all about crisis management. One of the most important services Shell Aviation provides is training – or more broadly – providing customers with the "operating systems" they need to keep compliant, safe, and efficient.
"Any airport's fuel handling facilities will only be as good as the people who manage it. That's where Shell Aviation's comprehensive manuals, in-depth assurance programmes, and training school come in," says McDougall.
"Three manuals provide detailed guidance on implementing industry standards set by bodies such as the Energy Institute, the Joint Inspection Group, and IATA, which our technical experts sit on, helping to set regulation. One example of this is Shell Jet Protection, a new, safer fuel filtration developed by Faudi in collaboration with Shell, to help clients stay ahead of changing industry standards."
The team also cover the management of airport refuelling operations, ensuring the quality of fuel and preventative maintenance measures. When it comes to assurance, Shell Aviation offers both a self-assessment tool and on-site inspections, which it calls the first and second lines of defence. In response to the pandemic, it has also begun offering inspections virtually.
"Shell Aviation's learning academy provides instruction for both front-line staff and managers that can be delivered virtually on site, or at Shell's own centres – and by Shell's or a customer's trainers," says McDougall. "For operations personnel, courses cover health, safety, security, and environment, or HSSE, as well as training in all aspects of aircraft fuelling, storage, handling and delivery. Other packages are tailored for supervisors and executives."
Robust operating systems to minimise risk
A key service offered by Shell Aviation Technical Services is its 24/7 Fueltec team, which provides a rapid response around the clock to any fuel, technical, or quality control issues, from demurrage to fuel contamination, helping customers get back on track.
"Our experts are able to advise on selecting the right fuelling vehicle. We deliver forward-looking information on industry trends and upcoming legislation through a series of webinars and newsletters, as well as a customer-specific advisory service," says McDougall.
Shell Aviation Technical Services is on hand to help improve the finer details of airport operations. Those interested can sign up to learn more about collaboration with Shell and to get a free copy of the Shell Aviation Fuelling Handbook, a valuable tool to help you manage refuelling operations safely and efficiently, by visiting the website at this link.