Bombardier customers are using real-time diagnostic data from their aircraft to reduce downtime, cut maintenance costs and make their fleets more efficient.
The Canadian manufacturer's Smart Link Plus is a cloud-based health management program that delivers operators insights into how their jets are performing, while they are in the air and immediately after landing.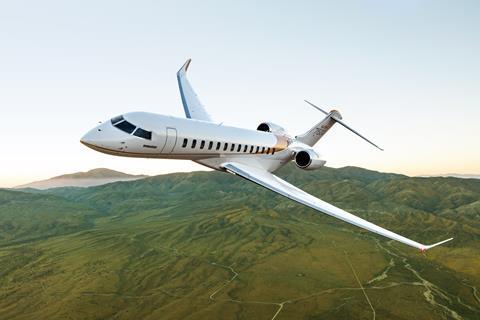 In the future, these insights will include discovering when a part needs repair or replacement before it fails, and being able to troubleshoot maintenance concerns outside scheduled inspections.
Bombardier unveiled Smart Link Plus in 2019 as a built-in feature of the Global 7500, but is now extending it to most other new-build Globals and Challengers, as well as offering it as a retrofit.
"Since launching it on the Global 7500, it has been a huge success," explains Elza Brunelle-Yeung, who leads the manufacturer's digital products team. "We saw the potential for how it could be a tremendous benefit to our customers and support our aircraft in service."
The system comprises a Smart Link Plus box, supplied by GE, that collects data from the aircraft during flight. The avionics device automatically transmits the data, in real-time via an in-flight internet connection, and then once it has landed through the cellular network.
Customers can then view the data using Bombardier's myMaintenance app, which works on any personal device.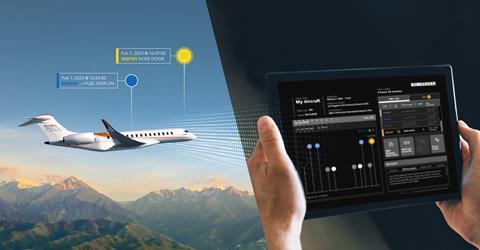 The advantages are many, according to Brunelle-Yeung. "Operations departments see what the pilot is seeing," she says. "For maintenance departments, they are receiving data from the aircraft that they would otherwise have to send a technician to get by plugging into the avionics and downloading."
Flight crews also save time and effort. "If there's an anomaly, the pilot no longer needs to rely on notes and photographs taken of the flight deck messages for their post-flight briefing," she says.
For business aviation companies, myMaintenance will, in the future, benefit from insights derived from data from the entire fleet of Bombardier aircraft paticipating in the Smart Link program – not just the individual operator's aircraft. This information can be invaluable. "Most of our clients don't have hundreds of aircraft like airlines, so it is difficult to obtain fleet-wide data," says Brunelle-Yeung.
When it comes to data sharing, privacy and security, of course, are paramount. Smart Link Plus users can opt out of the scheme, but, as Brunelle-Yeung says, "almost everyone recognizes the potential and greater good, so with their consent we are able to pool all that data".
Smart Link Plus is now a factory fit on the Challenger 3500 as well as the Global 7500, and it will also be standard on the Global 8000.
Under supplementary type certificates (STCs), maintenance providers can install the system on Challenger 300, Challenger 350, Challenger 605, Challenger 650, Global 5000 and Global 6000 types, with approvals for the Challenger 604, Global 5500, and Global 6500 to follow later this year or in early 2024, says Bombardier.
Operators can pay a discounted fee for the labour to install the Smart Link Plus health management box – usually during a major inspection – and the box itself is free with a subscription to receive the aircraft data through the app, but efficiency savings will very likely more than pay for the investment, says Brunelle-Yeung.
"If you can save one AOG (aircraft on the ground incident) in the year by using Smart Link Plus, it's worth it," she asserts. "We've already seen customers benefit financially from that ability."
Bombardier is working on further evolutions of the program. It is developing artificial intelligence tools to detect anomalies and provide customers with even more advanced analytics to predict when aircraft components will need attention.
Brunelle-Yeung describes Smart Link Plus as "game-changing" for Bombardier operators. "It means we can support customers in a way we haven't been able to previously, and eventually will change the whole approach to maintenance," she says.
"As an example, if you look at how the FAA (US Federal Aviation Administration) is moving towards allowing an operator to adapt their maintenance based on the condition of an aircraft, the only way of making that work is by using a connected aircraft package."
The technology is just one way Bombardier is raising the bar in terms of service, she says. "It falls within our strategy of expanding our aftermarket offering and supporting our customers wherever they are in the world."