The aerospace market is currently transforming, as new system capabilities and more automated systems are introduced, and uncrewed aerial vehicles (UAV) and urban air mobility (UAM) applications are being developed. These, like all other aircraft and rotorcraft, must comply with a strict regulatory framework and certification requirements.
At the same time, aircraft manufacturers are faced with rising costs and the growing necessity to reduce system lifecycle and operating costs, decrease size, weight, and power consumption (SWaP), and maximize fuel efficiency. This is one part of the trend towards more sustainable air transport, which also includes sustainable aviation fuels (SAF).
However, not just the vehicle itself but also its avionics are adapting to new requirements. Modern aircraft and rotorcraft integrate safety-critical, high-integrity, and high-availability systems such as flight controls or environmental control systems. Today, they operate in a much more connected environment and avionics are increasingly data-heavy systems that generate and process large amounts of data from a wide range of sources.
Large amounts of data may need to be visualized for pilots on screens in their cockpits to track the status of their aircraft, weather conditions, or updates from ground staff to enable safe and efficient operation. New autonomous mobility solutions also require high bandwidths and fast data transfer to ensure that flight taxis or delivery drones safely deposit passengers or cargo at the desired destination.
To meet the requirements of the market, manufacturers in the aviation industry need certifiable, cost-efficient, and high-performance solutions and partners that help them build, integrate, test, verify, and certify their systems.
TTTech Aerospace: proven, mature network and platform solutions
TTTech Aerospace has been supplying the aviation industry for more than 25 years and is proud of its long-term partnerships with market leaders like Airbus, Boeing, Bombardier, Embraer, Lockheed Martin, and their systems suppliers.
TTTech Aerospace is part of TTTech Group, a globally oriented group of high-tech companies headquartered in Vienna, Austria. TTTech Group's solutions are based on Deterministic Ethernet and applied in markets like mobile machinery, aerospace, smart manufacturing, and automation. TTTech Aerospace benefits from this cross-industry experience in developing and implementing systems solutions for safety-critical applications that act as the 'nervous system' and the 'brain' of an aircraft. Compliance to open standards and applying the necessary certification rigor ensures dependability and security.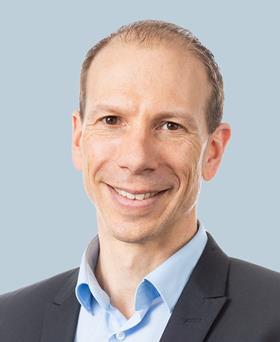 "We have established dedicated go-to-market teams for the aviation and space sectors, so we can focus on leveraging our application know-how on developing the best solutions for the industry. We see a lot of momentum in space right now, but the aviation sector is also transforming at a rapid pace, especially with more automated and uncrewed vehicles being developed and tested. With our mature network and computing platform solutions and more than two decades of market experience as a basis, we can provide complete systems for most avionics applications in the aviation market," says Christian Fidi, General Manager, TTTech Aerospace.
A versatile product portfolio for avionics based on open standards
TTTech Aerospace provides proven, open, and mature digital backbone solutions that enable customers in the aviation industry to manage the complex development of safety-critical systems. With its certifiable building blocks, customers are able to reduce time-to-market, development cost, and risk, while increasing performance and dependability.
TTTech Aerospace follows a modular, commercial off-the-shelf (COTS) approach. This enables a faster time-to-market, as well as lower cost and risk in the certification of required form factors. TTTech Aerospace offers a solutions portfolio that covers the whole system lifecycle and a wide range of technologies to ensure customers can find the best fit for their programs. The certifiable building blocks available fulfill industry standards at the highest safety levels (e.g., ARP4754A, ARP4761, DO-160, DO-254, DO-187c, DO-330, DO-326A) and are developed and produced using ISO9001 and AS9100 certified processes.
Christian Fidi knows that customers expect complete lifecycle solutions and partners that support them throughout all product stages from solution definition to development, integration, verification and validation, and certification, into series production and maintenance, repair and overhaul (MRO): "TTTech Aerospace's team provides our customers with all products and services they need to design and implement reliable deterministic networking solutions for safety-critical applications. Our product portfolio comprises hardware, IP cores, software, and middleware, as well as configuration and verification tools and certification data packages. Alongside this offering, we provide engineering services that include network architecture development, program and certification management, as well as integration and test support."
Find out more about TTTech Aerospace in the video below:
Deterministic networking for safe and reliable data transfer in safety-critical applications
Technologies applying Deterministic Ethernet ensure system reliability and enable more integrated systems (e.g., integrated modular avionics IMA) that are less complex and easier to install and maintain. Open systems architectures (OSA) are based on open, international standards. They allow manufacturers to integrate different technologies with defined interfaces and ensure interoperability, seamless connectivity, as well as future extension and upgradability of their systems. Components used in avionics systems thus need to be increasingly versatile and able to accommodate different form factors and network requirements for use in a wide range of applications.
Standard Ethernet is best-effort traffic that cannot accommodate the data transfer guarantees required for safety-critical applications. Introducing a deterministic component helps ensure that critical messages, e.g., command and control data are delivered securely. Components and products need to be designed to and compliant with open international standards such as ARINC A664 part 7, SAE AS6802, Time-Sensitive Networking (TSN), and/or SAE AS6003 to ensure that components from different suppliers can integrate seamlessly into the avionics network.
Christian Fidi explains: "A safety-critical application, such as fly-by-wire or avionics has to operate not just reliably, but also failsafe. These requirements influence system setup – to be failsafe, systems need to be redundant, which increases overall system complexity, the amount of cabling, and the weights of avionics components. TTEthernet® is a commercial implementation of Deterministic Ethernet that allows critical and non-critical data to be sent on the same physical media and network. This reduces size, weight, and power (SWaP), without comprising on safety or reliability."
TTEthernet® allows data transfer for different services on one mixed-criticality network that incorporates standard Ethernet (IEEE 802.3), rate-constrained Ethernet (ARINC 664 part 7), and Time-Triggered Ethernet (SAE AS6802). TTTech Aerospace's integrated, certifiable TTEthernet® network solutions comprise switches, end systems, and box-level equipment, as well as tooling, development equipment, and integration support.
Apart from its TTEthernet®-based offering, TTTech Aerospace also provides other Deterministic technology solutions for the aviation sector.
TTP® technology is based on the open SAE AS6003 standard and enables reliable distributed computing and networking for safety-critical systems at lower lifecycle costs. It is used in more than 20 different aircraft types, from large commercial aircraft, such as Boeing 787, Airbus A380, Airbus A220, and Embraer E2 to business jets, such as Embraer Praetor 500/600, and Bombardier Global Express 7500, as well as several other aircraft programs. So far, TTP® products have accumulated over one billion flight hours over the past two decades in DAL A-level applications, such as fly-by-wire, power systems, avionics, engine controls, and environmental control systems.
TTTech Aerospace is also bringing Time-Sensitive Networking (TSN) technology into the aerospace realm. TSN is a set of IEEE 802 Ethernet sub-standards that enable fully deterministic real-time communication over Ethernet. TSN products by TTTech have already proven themselves in the automotive and industrial markets and this long-term experience is being incorporated into TTTech Aerospace's certifiable, 802.1DP-compliant product offering for next-generation Ethernet networking in airworthy and safety-critical integrated systems.
Complete solutions portfolio to cover the entire lifecycle of aviation applications
TTTech Aerospace's software and onboard network system solutions can be applied in fixed-wing aircraft and rotorcraft, as well as in uncrewed aerial vehicles (UAV) and urban air mobility (UAM) and eVTOL (electric vertical takeoff and landing vehicle) applications. Key requirements are certifiable, flexible, and modular components that cover different form factors and can be easily integrated into customers' applications according to their specific requirements.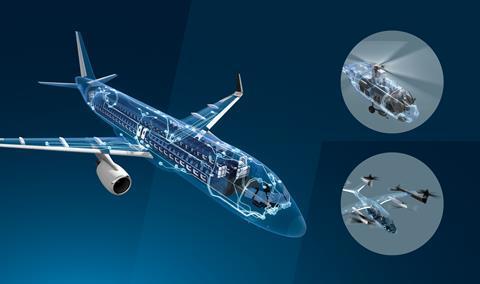 For 25 years, leading Tier 1 system integrators like Honeywell, Collins, Parker Aerospace, and BAE Systems have used TTTech Aerospace's solutions for a broad range of aircraft, from small business jets to regional aircraft, and large commercial air transport aircraft built by key aerospace companies such as Airbus, Boeing, Bombardier, and Embraer. These solutions include chip IP, chips, switches, network interface cards (end systems), and onboard hardware that are implemented in avionics, integrated modular avionics (IMA) and distributed integrated modular avionics (DIMA), distributed power generation platforms, landing gear systems, flight controls and fly-by-wire, engine control, as well as other utility systems (e.g., air management, fuel systems).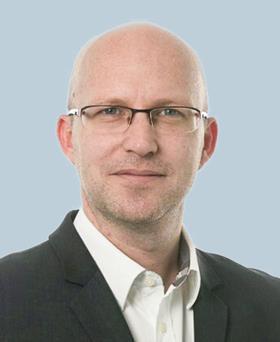 TTTech Aerospace continues to extend its offering for the aviation market, with a focus on high-performance, versatile, and certifiable solutions. "The two newest products in our aviation portfolio are the TTESwitch Module A664 Pro and the TTEEnd System A664 Pro (XMC). They are certifiable to the highest aerospace safety standards (DAL) in DO-178C / DO-254 and based on TTEthernet®, so they are suitable for different Ethernet-based platforms. We can also accommodate the needs of new and next-generation avionics networks in fixed-wing aircraft, business jets, rotorcraft, and UAVs with data transfer speeds of up to 1 Gbit/s," explains Thomas Auer, Vice President Aviation, TTTech Aerospace.
The TTESwitch Module A664 Pro is a certifiable Deterministic Ethernet switch used as the core of high-performance avionics networks for avionics in current and future aviation applications. Its high data transfer rates of up to 1 Gbit/s help simplify network architectures and lower SWaP and allow it to be used in switches with different form factors, such as ARINC 600, 3U VPX, 6U VPX, as well as a standalone line replaceable unit (LRU). When building a flight switch, the TTESwitch Module A664 Pro covers the complex electronics certification for hardware, software, and chip, plus the systems aspect, offering a simplified way to reach a complete switch certification. The TTESwitch Module A664 Pro is based on TTEthernet® and can thus accommodate three different traffic classes (IEEE 802.3, ARINC 664 part 7, and SAE AS6802), serving as a base for customers to develop their own flight switches for a wide range of aviation applications and levels of determinism of Ethernet.
The TTEEnd System A664 Pro (XMC) and the TTEEnd System A664 Pro (PMC) are DAL A-certifiable network communication end system cards for use in flight programs. They are commercial off-the-shelf (COTS) products that help customers reduce time-to-market and support the open systems architecture (OSA) approach. They support three traffic classes on one physical infrastructure and enable real-time Ethernet communication between an embedded computer and TTEthernet® switches for redundant channels in safety-critical systems.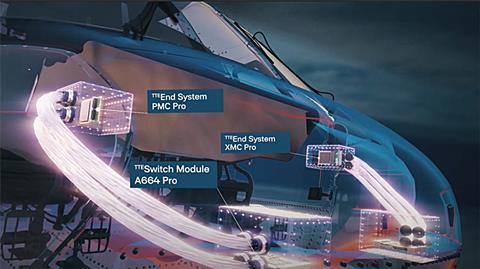 Trends and future aviation applications
A strong global trend in the aviation sector is towards more autonomously operating systems, especially in urban air mobility (UAM), such as flight taxis and delivery drones. As legislators are negotiating the requirements and features needed for safe operation, manufacturers need to ensure that avionics systems can cope with big data applications and high-speed transfer rates, while at the same time looking for ways to make systems more compact and lightweight, so they can be integrated easily into existing and newly developed vehicles.
New cockpit generations are more user-friendly for pilots, with head-up displays and touch screens and a higher degree of automation thanks to autopilot, and more efficient planning of flight routes based on real-time weather data. Like UAM applications, these new setups require a lot more data to be sent and processed than older cockpit generations, while having to adhere to increasingly stricter safety and certification requirements.
TTTech Aerospace is ideally positioned to support customers in the aviation industry in these complex future programs. Its growing solutions portfolio builds on more than two decades of market experience in safety-critical systems and cooperation with industry market leaders both in long-term programs and new applications.
Thomas Auer sees a bright future ahead for TTTech Aerospace: "We are continuing to extend our product portfolio to meet the needs of the aviation market with a view to future applications such as air taxis and delivery drones that need much higher data transfer rates. With solutions based on open international standards and certifiable up to DAL A, our team of industry experts can accompany customers along their whole journey and support diverse business cases and applications. Our solutions also offer high-performance data transfer rates that can accommodate modern cockpit avionics as well as the high data rates needed for UAVs."