Chinese investigators are probing an overrun during landing by a China Express Airlines regional aircraft at Aksu airport in China's northwestern Xinjiang province.
The incident, which occurred at 18:14 local time on 29 August, involved a Bombardier CRJ900 registered B-3250.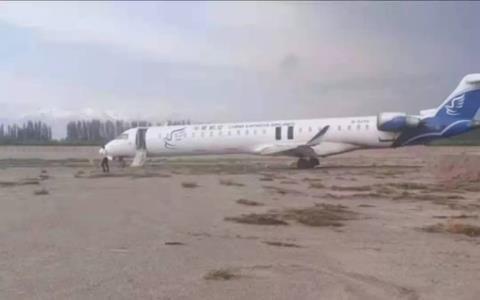 The aircraft was reported to be carrying 64 passengers and nine crew members, and was operating flight G54394 from Korla, a town also in Xinjiang province, to Aksu.
A notice from the Civil Aviation Administration of China's (CAAC) Xinjiang regional bureau states that the aircraft "slid off" the runway upon landing. Four passengers sustained injuries while evacuating from the aircraft, and the runway had to be shut for about three hours.
Images from Chinese social networking sites show the aircraft resting on muddied ground some distance away from the end of the runway.
Chinese media reports suggest it had been raining before the incident occurred. They cited the airport operator's weather forecast issued at around 17:00 local time, which states that there would be thunderstorms later that evening.
The forecast also reportedly states: "Pay attention to the impact of low-altitude windshear and turbulence on flight."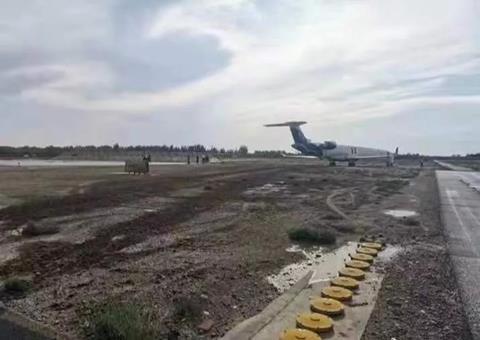 CAAC's Xinjiang bureau stated that it took a serious view of the matter, adding that the incident "will be dealt with in accordance with the law and regulations based on the investigation outcome".
Cirium fleets data indicates that B-3250 entered service with the carrier in March 2017. China Express has a fleet of 36 other CRJ900s in service, with 11 Airbus A320ceos, four A320neos, as well as three Comac ARJ21s.
The latest incident comes more than a decade since China Express was grounded by the CAAC after one of its CRJ200s scrapped the runway on landing. The airline was suspended for about six days in September 2010 to tighten its safety regulations, before being allowed to resume partial operations.