Etihad's strong start to 2020 was thwarted by the coronavirus pandemic as it now plots the reactivation of its network amid a further drive to reduce costs.
The Abu Dhabi-based airline faced "a set of enormous and unpredictable challenges in the first six months", which saw passenger numbers decline by 58% over the same period in 2019, to 3.5 million. It cut capacity, as measured in available seat-kilometres, by just over half, to 23.69 billion.
Etihad's core operating loss increased by $172 million to $758 million, compared with $586 million in the period last year. This was driven by a 38% fall in revenue, to $1.7 billion, partially offset by a 27% lower direct operating costs ($1.9 billion) while administrative expenses fell by a fifth. Etihad says that these declines were a result of "management cost containment initiatives" and reduced operations.
Like many carriers, Etihad has seen improved cargo revenues during the crisis, rising 37% to $0.49 billion driven by greater demand and "a spike" in cargo fares.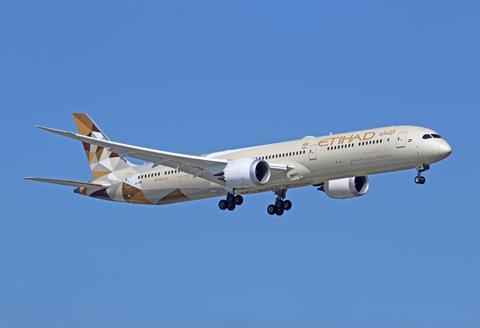 The airline, which had been undergoing a restructuring prior to the pandemic, had seen an encouraging trend during the early part of the year, with its core operating result for the first three months up 34%. This was despite the initial impact of Covid-19 which caused a 12% reduction in passenger numbers, and a 9.5% cut in capacity.
"By the end of the first quarter, the airline was on track to achieve a 2020 EBITDA of $900 million [compared with $453 million in 2019]," says Etihad Aviation Group chief financial officer Adam Boukadida.
But as the full force of the coronavirus pandemic played out during quarter, flight suspensions saw 70% of Etihad's fleet grounded as passenger numbers declined 99% and ASKs cut by a similar amount (95%), compared with Q2 2019. This pushed Etihad to a core operating loss of $520 million during the quarter on operating revenues of $440 million.
During the second quarter 40 of Etihad's 97 passenger aircraft were operated as belly-hold cargo freighters to complement the six Boeing 777Fs with Etihad Cargo.
Etihad Aviation Group chief executive Tony Douglas says that the airline remains "optimistic" that as international borders re-open it will be increasing operations as passenger numbers recover: "By September, we aim to increase our worldwide flights to half our pre-Covid-19 capacity."
Etihad expects that throughout August and September, subject to the lifting of international restrictions, it will fly to 61 destinations from its Abu Dhabi hub, operating approximately 50% of its pre-coronavirus capacity.
The ongoing focus on cost has increased further in the wake of the virus, says Boukadida: "A greater emphasis is being placed on a drive towards increased cost optimisation and efficiencies across the entire business to face the hurdles placed in our way by Covid-19. Our suppliers and partners have also worked closely with us, including the arrangement of payment holidays with lessors and savings discussions with all of our supply chain."
In the wake of the pandemic, Etihad says it was "forced to redesign the organisation" and make "several thousand" redundancies, while a temporary programme saw company-wide salary cuts of 25-50%.
"The clear focus moving forward is on adapting our transformation plan to reflect new market conditions, but without changing our overall objectives or sustainability goals and commitments," says Douglas. "We know that markets are certain to rebound and the world will rediscover the wonder of flying once more."