The European aviation associations behind the region's proposed Destination 2050 sustainability roadmap have called for the global adoption of objectives in line with that plan – potentially through the next ICAO assembly.
Speaking during the UN climate change conference COP26 on 12 November, EasyJet chief executive – and chair of Airlines for Europe (A4E) – Johan Lundgren said that European aviation "strongly supports and encourages" the adoption of a decarbonisation framework in other regions and the global industry.
"Ambitious decarbonisation objectives and related long-term actions by all countries and regions" could be agreed at a global level at the next ICAO assembly in 2022, Lundgren suggests in a speech shared by signatories to the Destination 2050 roadmap, including A4E, the European Regions Airline Association and airports body ACI Europe.
"Our sector is by nature a global one, so we encourage others to follow suit," he continues. "Alongside regional measures, a strong global framework should be established and put into action to enable aviation's decarbonisation to happen on a global scale and match our ambition in Europe."
Adoption of Destination 2050 objectives – or something close to them – by ICAO would be a significant step towards the roadmap transitioning from theory to practice, given the vital role that governments would need to play in the plan's implementation.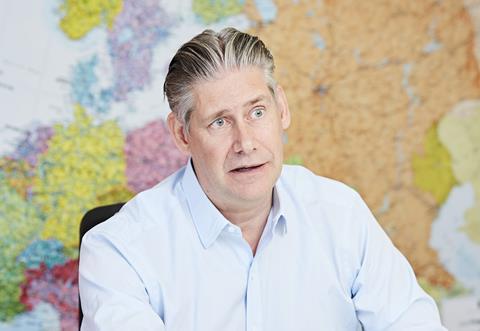 Lundgren notes that Euorpe's path towards net-zero CO2 emissions by 2050 has been "endorsed at the highest level by Europe's airlines, airports, aerospace manufacturers and air navigation service providers", while also setting out decarbonisation commitments "in clear terms".
He adds that Destination 2050 was written in line with the Paris Agreement and the European Green Deal, with the aim of "all flights within and departing the EU, UK and EFTA realising net-zero CO2 emissions by 2050".
The EasyJet chief's comments came after a number of governments signed up for the newly created International Aviation Climate Ambition Coalition at COP26. Among the aims of the new grouping, it will seek "to reduce aviation CO2 emissions at a rate consistent with efforts to limit the global average temperature increase to 1.5°C", through ICAO and other initiatives.
ICAO's biggest success so far in terms of global agreement on aviation sustainability challenges is the CORSIA carbon offsetting scheme. In the Destination 2050 roadmap, however, CORSIA has a relatively small impact as part of the "economic measures" that will account for 8% of the decarbonisation effort.
Similarly, a potential net-zero scenario released in October by international airline association IATA sees offsetting accounting for 8% of the target.
At the unveiling of Destination 2050 in February this year, the signatories highlighted the crucial role to be played by a range of stakeholders – including governments – if the industry is to reach net-zero CO2 emissions by 2050. IATA said the same when its members agreed to target net-zero by 2050 at the association's AGM in October, particularly highlighting the need for policy and regulatory frameworks around the use of sustainable aviation fuels.