Finnair has pledged to make environmental protection a core company value and halve its net carbon emissions by 2025, versus last year, under a new sustainability strategy.
The Nordic carrier describes the plan, which it has worked up over the past five months, as "the most ambitious sustainability strategy in the aviation industry".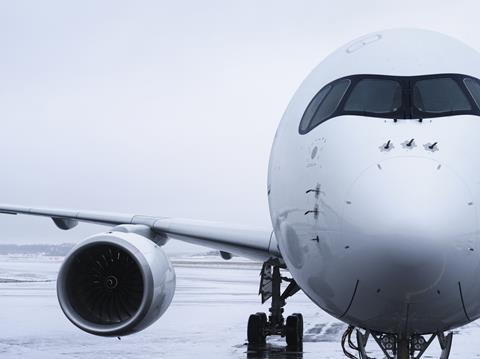 While the sector as a whole has committed to a net CO2 reduction from 2050, Finnair says it wants to achieve carbon neutrality by 2045 "at the latest".
Chief executive Topi Manner said during a conference call on 6 March that decarbonisation was a "very important" part of the airline's future growth plan.
Finnair must achieve "sustainable, profitable growth" as climate change represents "by far the biggest challenge" for the aviation sector, he argues.
At an annual general meeting later this month, Finnair management will propose an amendment to the company's articles of association to include sustainability in its "DNA".
"This will enable Finnair to engage in activities which increase the positive effects and reduce the negative impact of its business on the environment and society," the airline says.
Manner says the intention is to recognise interests of "all" stakeholders, "not just shareholders".
He states: "Aviation is a fast-paced industry subject to many changes, and everything impacts it. Maintaining a long-term perspective at all times, in all market situations, is key."
Noting the emergence of the Swedish "flygskam" movement – "flight shame", in English – Manner says that, while Finnair has not seen a decline in passenger numbers as a result of consumer reluctance to travel by air, travellers are increasingly aware of environmental concerns and "sustainability will be driving passenger behaviour going forward".
Later this year, Finnair will introduce a new ticket category for passengers wanting to book flights with a charge for carbon offseting or for support of biofuel.
Finnair had previously implemented a system for passengers to offset carbon emissions or pay a biofuel charge during the booking process. But the scheme was abandoned because it was deemed illegal under Finish consumer law. Vice-president of sustainability Anne Larilahti explains that under the law the airline was not able to put optional additional charges on a ticket without providing an additional service or product in return.
Under the new fare category – provisionally described by Larilahti as a "green ticket" – Finnair will match a passenger's contribution to more sustainability, be it for carbon offsetting or biofuel, with an equivalent biofuel purchase.
Larilahti acknowledges the much higher cost and lower availability of biofuel versus conventional, fossil-based kerosene, noting that the supply of biofuel is "not a functioning market yet". She says the airline has opted for the policy of matching passengers' contributions in a bid to stimulate the biofuel market.
The Oneworld carrier says it has become a partner of Finnish sustainable fuel specialist Neste, which refines kerosene from waste.
Citing a lack of regulation and common standards for carbon offsetting, Larilahti describes such schemes as "a bridge" until sustainable fuel becomes more widely available. But for now, she says: "We can't get to dramatic [CO2] reductions without offsetting."
Beyond all this, Finnair is in the process of implementing a range of weight- and fuel-saving initiatives.
In addition to operational improvements, including optimised routing and continuous descent profiles, Finnair will from 29 April discontinue onboard retail sales on flights within the European Union in an effort to reduce weight.
Passengers will still be able to pre-order retail products for on-board delivery. But Larilahti says that the use of dedicated service trolleys for retail products will come to an end, saving up to 100kg per flight.
Similarly, the airline wants to encourage passengers to pre-order in-flight meals in an effort to reduce weight and halve food waste by the end of 2022. Larilahti says that unused in-flight meals – carried to provide passengers choice – are regularly burned for hygienic reasons.
The carrier sees a wider consumer trend toward more vegetarian and vegan food, and plans to introduce this year more such meals in its in-flight catering.
In the period to 2025, Finnair plans to invest some €60 million in sustainability projects, in addition to planned new-generation aircraft acquisitions, payments under the EU emissions trading system, and other environmental charges.
This analysis was written by Michael Gubisch, part of Cirium's London-based reporting team