Mesa Air Group reported a $15 million operating profit during the third quarter despite the travel downturn during the coronavirus pandemic.
While Mesa's profit was only down about 12% year-over-year, operating revenue plunged 60% to $73 million as passenger demand remains soft for the carrier's airline partners.
Mesa's business has been somewhat insulated during the pandemic because it has capacity purchase agreements to operate flights for United Airlines and American Airlines, for which those carriers make fixed monthly payments.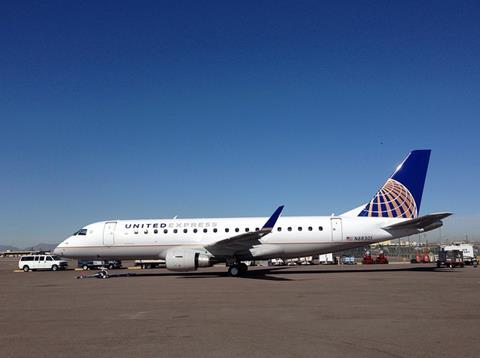 Block hours for those flights were down 73% year-over-year, but are expected to improve in September, Mesa chief executive Jonathan Ornstein said during an earnings call on 10 August. He anticipates that flights for its fourth quarter will be down 46% year-over-year.
The regional carrier and its mainline customers are making changes within their contract parameters to save costs, including deferring aircraft deliveries.
Mesa is in talks with American to extend its capacity purchase agreement, and has agreed to remove two Bombardier-built CRJ-900 aircraft from service in June that were scheduled to be removed in January, chief operating officer Brad Rich says during the call.
"While we don't know the size, scope or duration of the extension, we do remain convinced that American believes we are a valued part of the portfolio," Rich says. "Without an extension, 49 aircraft will be expiring over a 23-month period starting in February of 2021. Of the 49 aircraft, 33 will have no debt."
ENTERING AIR FREIGHT
Mesa will diversify its business in October by leasing two Boeing 737-400 freighters from DHL as part of a contract to fly cargo through 2025 for DHL Express Americas from Cincinnati/Northern Kentucky International. If all goes well, it is possible that Mesa in 2022 could operate 10 cargo aircraft for DHL, Ornstein says.
"There is significant growth opportunity" for this partnership with DHL, Ornstein says during the call. "Being in the cargo business is a pretty good bet long-term."
In May, Mesa added former chief executive of cargo carrier Southern Air Daniel McHugh to its board of directors.
Operating narrowbody freighters for DHL is part of "a secular trend toward flying smaller aircraft" among cargo operators, Ornstein says, because smaller freighters can make more frequent stops.
While touting "a pretty good quarter" for Mesa through the end of June, Ornstein adds "we have a way to go, no doubt about it."
At 30 June, Mesa had $65 million in liquidity and $764 million in total debt. The company is eligible for an additional non-labour related loan of $277 million through the CARES Act.