Scandinavian budget carrier Norwegian has today warned that it faces a "significant risk" of insolvency, as it revealed a third-quarter net loss of NKr980 million ($108 million).
Still reeling from the Norwegian government's 9 November announcement that it would not provide any more financial support to the struggling airline, the Oslo-based operator admits in its third-quarter financial results statement that "there is a significant risk that the company becomes insolvent and enters into bankruptcy" if it is "not able to reach an agreement with its creditors".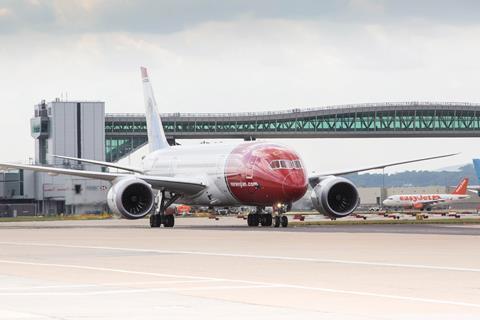 Aircraft financing discussions are "ongoing", says Norwegian, and "such financing is currently subject to an event of default which is not remedied by the refinancing that was achieved in the first nine months of 2020".
Norwegian disclosed after the government's refusal to provide any further funding that it would furlough an additional 1,600 staff and park 15 of its 21 operational aircraft. It cancelled a planned online presentation to discuss its third-quarter results this morning.
The airline reported a third-quarter operating loss of NKr2.8 billion, compared with an operating profit of almost NKr3 billion in the same period in 2019. Revenue dropped 91% to NKr1.3 billion. Capacity in the third quarter was cut 94%, and RPK traffic fell 96%. Load factor plummeted 30.6 percentage points to 60.6%.
"Our third-quarter results clearly show that the effects of the global Covid-19 pandemic continue to heavily impact our operations and financial position," states Norwegian chief executive Jacob Shram. "Changing government travel advice and further restrictions as a result of a second wave of infections seen in many countries have further contributed to a decrease in customer confidence and certain routes becoming once again unviable, leading us to rapidly adapt our network."
He adds that the airline continues to "work tirelessly to make sure that we can emerge from this crisis as a stronger company, well-positioned for future competition". The airline still believes that there are "reasonable prospects to resolve potential defaults and obtain necessary working capital".
Analysts, however, are not convinced. Bernstein's Daniel Roeska writes in a 10 November research note that the Norwegian government's decision, combined with continued lockdown measures, will likely mark "the end of the line for the company". He argues that "there is little hope to recover any equity from this business any more".
Citing net cash at the end of the third quarter of NKr3.4 billion – down from NKr5 billion at the end of the second quarter – versus current liabilities of NKr16 billion, Roeska adds: "We would not expect any suppliers to extend further credit to the company, and to demand cash up front for any services rendered.
"Absent further funding, this could cause a liquidity crunch in the very near term and we see few ways out for the group."