United Airlines plans to remove seats from some regional aircraft by 1 October to comply with pilot-contract provisions that would take effect if United furloughs pilots.
The company has not announced furloughs, but on 20 May chief executive Scott Kirby warned staff cuts could come if unions fail to green light work-hour reductions.
United chief commercial officer Andrew Nocella, speaking during a 19 May conference hosted by financial analysis company Wolfe Research, confirmed a seating change is underway.
"We have the engineering being worked on right now, and we will have them removed by October 1," Nocella says when asked if United might need to remove seats from regional aircraft.
"We haven't actually started to execute the project, but we are… preparing the project, doing the engineering work so we can execute and be done by October 1," he adds. "We'd rather not remove them."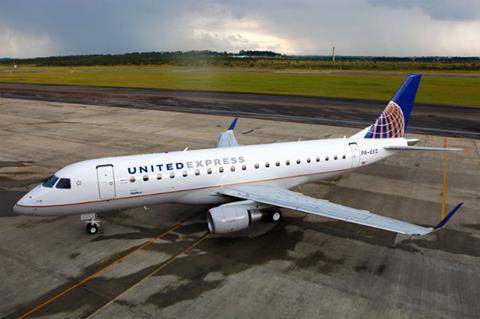 United's contract with union Air Line Pilots Association, International (ALPA) stipulates conditions under which the company can furlough pilots.
The contract requires United to "convert" 76-seat aircraft to 70-seat aircraft if it furloughs pilots hired prior to when the contract was signed, a move that could diminish the economics of the jets.
Regional carriers Mesa Airlines, Republic Airways and SkyWest Airlines operate a combined 136 76-seat Embraer 175s for United, according to Cirium fleets data. Those airlines' fleets include another 17 of the 76-seat jets that are in storage.
United did not respond to a request for more information, but CEO Kirby tells CNBC on 20 May that United is seeking union concessions in order to avoid staff cuts.
"We hope that we can work with the unions to avoid furloughs, and just use fewer hours" to cut costs, he says.
The pilot union says, "We have been working extensively with the company for months to help manage this crisis. ALPA is committed to working with Scott and this new team going forward to find more voluntary options that will ensure we swiftly return to profitability."
United's pilot contract does not prevent the carrier from furloughing pilots, though United would need contract modifications to reduce work hours, a source familiar with the contract confirms.
In a 4 May letter to pilots, United vice-president of flight operations Bryan Quigley warned the company might need to furlough pilots starting in October. The airline cannot cut staff prior due to stipulations under which it received US government coronavirus relief funds.
"If conditions do not improve before October, we won't be able to avoid furloughs," Quigley wrote.
Early this month United also notified pilots of "a displacement" affecting 30% of cockpit crew. That term means the airline has more pilots at specific bases or assigned to specific aircraft types than needed, the carrier says. Displacements can involve bumping pilots off assigned aircraft types and shifting them from a captain to first officer position, ALPA says.
On 19 May, Nocella also says the airline is re-imagining what air travel will be like when shelter-in-place and quarantine orders lift.
"There are no sacred cows," he says. "We are going to get the business back. The rules may not match exactly what they were over the last few years."
The Chicago-based airline also says on 19 May it will increase capacity across its network in July by about 15%. That would bring capacity to about 25% of the pre-coronavirus level. That expansion is "a substantial improvement" over last month, when demand declined to almost zero.
"For the first time since April we are now seeing a lot of this [demand] starting to stabilise," Nocella says. "It's returned to the zip code of reasonableness."
As the airline ratchets up capacity in July, executives say they will reassess the August schedule in the next two to three weeks.
"International [demand] still doesn't look great. It has not recovered to any extent that's meaningful," Nocella adds. Most international flights are being operated primarily for cargo transport purposes. "There's a long way to go to come to a decent number."
Story updated on 20 May to include a statement from ALPA.