Cranfield Aerospace Solutions (CAeS) has subtly shifted its focus in a bid to take advantage of what it sees as the near-term opportunity offered by fuel cells running on gaseous hydrogen.
UK-based CAeS is developing a hydrogen fuel cell conversion for the nine-seat Britten-Norman BN-2 Islander under a government-backed initiative called Project Fresson.
While this uses gaseous hydrogen, CAeS chief executive Paul Hutton says his assumption was that any "next step" would require more power and more range "and a move from gaseous to liquid hydrogen".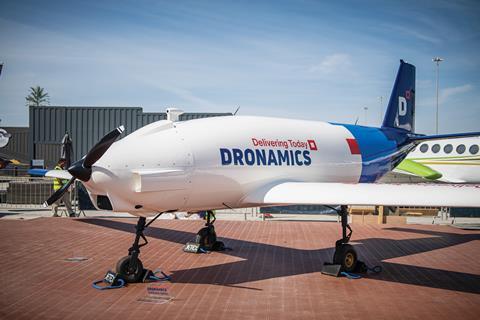 But with the widespread market availability of liquid hydrogen "pushing to the right", Hutton sees a "much bigger opportunity from gaseous" than previously thought.
As an initial step, it recently signed an agreement with unmanned cargo aircraft developer Dronamics to supply a lower power version of the propulsion system it is developing for the Islander.
Service entry of the hydrogen-powered Dronamics Black Swan is targeted for 2027, shortly after the Islander makes its commercial debut in 2026, Hutton says.
But based on the speed of regulatory clearance for the new technology, those plans could still change. "We will progress as fast as we can to apply the technology to whichever opportunity comes first," he adds.
Sized at 125kW, the fuel cell system for the Black Swan will allow the unmanned air vehicle to maintain its 350kg (770lb) payload, albeit at the expense of some range, Hutton says.
Dronamics' total requirement is for around 1,300 fuel cell powertrains – a figure that dwarfs CAeS's existing backlog of almost 100 propulsion systems.
CAeS is present at the Dubai air show on the stand of the UAE's Strategic Development Fund (SDF) – an investor in both the UK firm and Dronamics.
In addition, CAeS at the show signed an agreement with Reaction Engines, another SDF-backed firm, to expand their existing collaboration on low-emission powertrains.
Reaction Engines is supplying its low-drag heat-exchanger technology for the Fresson project.
"It's interesting that we are getting technology that was designed for cutting-edge space access but which is going on a 1960s-designed aircraft," adds Hutton.
Other suppliers for the Islander demonstrator include electric motor specialist Evolito and fuel cell stack developer PowerCell. Hutton says CAeS hopes to firm up the supply chain for the production powertrain "over the next six months".
While the Islander and Black Swan remain CAeS's immediate focus, Hutton says it is "looking at other existing aircraft, both singles and twins" as well as "other UAV opportunities".
Longer term there could still be an opportunity for a clean-sheet 50-seater using liquid hydrogen but our thinking is evolving", he says, noting "more and more interest in smaller aircraft".
"We will choose the size of the aircraft very carefully before we set off on that journey."