Australia has axed a plan to build a 2,700m (8,858ft) concrete runway near its Davis Research Station on the coast of Antarctica.
The government of prime minister Scott Morrison attributed the decision to concerns about the environmental impact of the project, says environment minister Sussan Ley.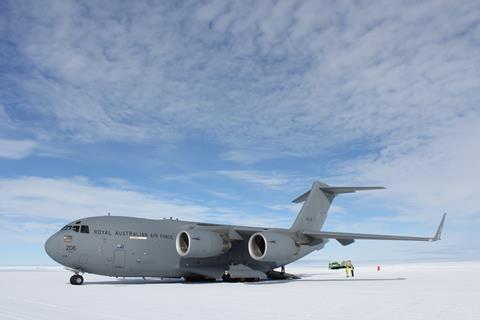 The project, originally announced in May 2018, would have seen the construction of the first paved runway on the southern continent. The runway would have been capable of handling widebody commercial aircraft and strategic transports on a year-round basis.
Other infrastructure would have included taxiways, runway lighting, and buildings to accommodate services such as air traffic control and firefighting. A pier was also planned, as well as storage facilities for fuel.
Initial estimates suggested that building the aerodrome would have required a combination of icebreakers and ice-strengthened cargo vessels. Every year, two cargo vessels would have been dispatched to Antarctica to support construction.
The aim was to bolster Australia's research capabilities on Antarctica.
"Over the last five years the Government has thoroughly researched the runway option in a way that has greatly increased our understanding of this unique terrestrial and marine environment, which will help inform our future investment," says Ley.
"It is now clear that higher projected costs, potential environmental impacts, and the complexity of a 20-year construction process in an extreme and sensitive environment, are such that we will now focus on alternative options for expanding our wider Antarctic Program capability."
At present, the Davis Research Station is only accessible by icebreaker in the Australian summer, or by light aircraft flying internal routes.
Australia's main air link to Antarctica is to the Wilkins Aerodrome ice runway, which is 70km inland from Casey Station. This runway is only operational during the Australian summer, when it can be reached from Hobart, Tasmania.
Wilkins is served by Boeing C-17s operate by the Royal Australian Air Force (RAAF), as well as an Airbus A319 operated by Skytraders.
In February 2019, an RAAF C-17 pilot told FlightGlobal about the challenges of operating to Wilkins. In addition to the necessity of tankering fuel for the return trip, a constant concern is weather. Of particularly concern is snow falling on the aircraft when it is on the ice, which could make it impossible to take off, requiring the dispatch of a rescue aircraft.
Crew safety is also an issue. Even with chains on one's boots it is easy to slip. On one C-17 mission an RAAF photographer fell and broke his wrist two minutes after disembarking from the aircraft.