European Commission pushes deadline for fitting precision flight-tracking technology back six months to December, while retrofits will have until June 2023.
European regulators have pushed back deadlines for the mandatory installation of automatic dependent surveillance – broadcast (ADS-B) equipment on the back of the coronavirus pandemic.
Announcing the decision on 29 April, the European Commission said the "coronavirus crisis has made it necessary to reconsider the upcoming…deadline", describing the amendment of legislation dating to 2011 as "a relief measure to airlines".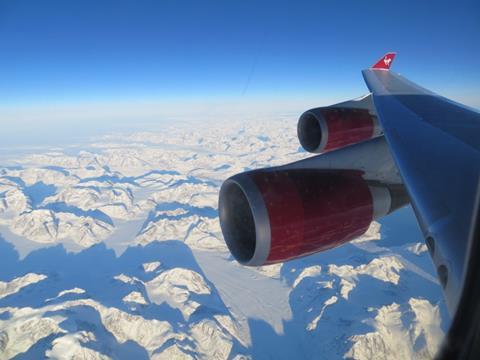 ADS-B fitment was to have been mandatory from 7 June 2020, but that has now shifted back six months, to 7 December, for new-build aircraft, and to 7 June 2023 for retrofits.
The move came following recommendations of the Single European Sky air traffic control modernisation deployment manager (SESAR DM) and the European Union Aviation Safety Agency (EASA).
Using a combination of satellite positioning and onboard avionics data, ADS-B supplements ground-based radar by broadcasting identity, position, speed and course.
The new regulation, coming into force on 20 May and applying to all aircraft with maximum take-off weight (MTOW) in excess of 5,700kg (12,500lb) or maximum cruising true airspeed greater than 250kt (463km/h), mandates ADS-B and Mode S Enhanced Surveillance equipment.
Aircraft receiving their first certificate of airworthiness from 7 December this year must comply by that date; operators of aircraft with earlier first airworthiness certificates have until the 2023 deadline to comply, but must – by 7 December 2020 – establish a retrofit compliance plan.
But aircraft predating 7 June 1995 are exempt, as are those which will cease operating in European airspace by 31 October 2025 or are being operated only for maintenance or export.
A 2018 ADS-B implementation plan forecast that by the original 7 June 2020 deadline, just 73% of the civil-registered EU fleet would be equipped. Under the amended timetable, about 82% could be compliant by the new December 2020 deadline, rising to nearly 95% by the June 2023 end-of-transition period.
Similar ADS-B requirements established by the Federal Aviation Administration came into force in US airspace on 1 January this year, so airliners flying transatlantic routes are thought to be already compliant in Europe as well.
According to EASA, all "significant" manufacturers can already supply aircraft line-fit with ADS-B equipment. But, the agency says: "It is difficult to estimate the proportion of the fleet subject to retrofit that is already equipped, however, the data indicates that approximately 70% of fleet under the responsibility of European operators are equipped.
"This figure equates to approximately 40% of the nominal fleet operation within European airspace."
While retrofits will clearly benefit from the deadline extension, new deliveries are essentially all compliant. In 2018, the SESAR DM found less than 4% of new deliveries to be not equipped, but by the first half of 2019 "the figure shrank to practically zero"; of "less than five detected deliveries in 2019-2020", all were business jets.
The European Business Aviation Association has "warmly welcomed" the Commission's "flexibility" in extending the ADS-B compliance deadline. Secretary general Athar Husain Khan says: "The EBAA has always supported ADS-B surveillance technology, and while some of our members are already compliant, there are some who will have difficulties meeting requirements in the [Covid-19] crisis."
The new rules apply to most aircraft used for any commercial purpose. MTOW for an Airbus A320 is about 93,000kg, a Dassault Falcon 2000 business jet comes in at about 19,400kg and a Beechcraft King Air 350i is about 6,800kg, well in excess of the ADS-B minimum. The popular Pilatus PC-12 is lighter – MTOW about 4,700kg – but its 285kt cruise speed puts it inside the requirement.
Ultimately, ADS-B technology is expected to underpin ongoing efforts to better manage busy transatlantic airspace by essentially joining together the ongoing US NextGen and European SESAR air traffic control technology modernisation programmes.
While ground-based radar cannot see beyond the visible horizon, ADS-B signals are easily picked up from orbit by an increasing number of transponder-equipped satellites – with the result that where air traffic controllers have historically been blind as to traffic over the Atlantic or other oceans, ADS-B can give them a detailed and essentially real-time visualisation of traffic.
Indeed, the objectives of NextGen and SESAR include both enhancing safety – particularly in Europe's notoriously crowded airspace – and more efficient routing, to minimise distances flown and hence fuel burned. Both objectives will depend on the improved airspace management promised by ADS-B.
Live trials of transatlantic ADS-B air traffic control began in March 2019, involving Nav Canada in the Gander Oceanic Flight Information Region (FIR) and the UK's NATS in the Shanwick FIR. These two contiguous sectors carry very nearly all the traffic that flies both ways between North America/Central America and Europe/Middle East.