French air traffic control centres have started introducing a new-generation air navigation system developed by Thales.
Reims area centre, the first deployment site, inaugurated its system – known as 4-Flight – on 8 December, following implementation in mid-June.
A second pilot centre, Marseilles, formally implemented 4-Flight on 6 December.
French air navigation service DSNA will expand the programme to the three other en route centres – Paris, Brest and Bordeaux – by 2025.
Thales says the full roll-out will mean air traffic controllers will operate with a single system across French upper airspace, a region of some 1 million km².
The company says the system is intended to "ensure a smoother flow of flights".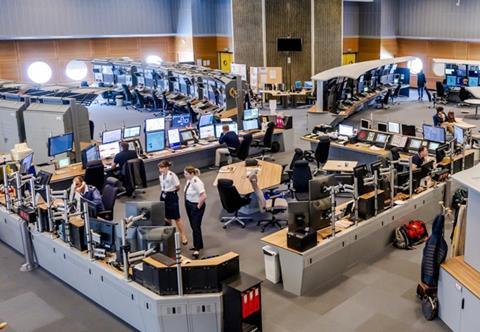 It is centred on an advanced flight-data processing system, branded Coflight, which provides controllers with accurate forecasts of four-dimensional flight trajectories.
This enables them to optimise routes and increase flight efficiency, with the benefit of reduced fuel-burn, shorter flight duration, and lower emissions.
The system is interoperable with equipment controlling neighbouring airspace, and is connected to 10 other air navigation service providers.
Thales says 4-Flight is co-funded by the European Union under the Single European Sky modernisation initiative.
DNSA and Thales inaugurated 4-Flight at Reims during an event attended by French transport minister Clement Beaune.
"This represents a major European air navigation milestone for the sustainable recovery of air transport," says DSNA chief Florian Guillermet.
"Implementation [of 4-Flight] proves the commitment of DSNA to pursue its technological modernisation to deliver the challenges of the 'Digital European Sky', and high-quality and more competitive service."